Environmental Center Features Light Fixtures Designed by Augustana Art Instructor
The light fixtures inside the new $1.25 million Sioux Falls Environmental Center are proof that art can transform an object we use every day and raise awareness about significant global issues like the importance of recycling.
The fixtures, designed by Augustana Art Instructor John Peters, class of 1976, hang throughout the building, located at 1017 E. Chambers St. in Sioux Falls. The facility is the first LEED-certified (Leadership in Energy and Environmental Design) City-owned building.
Peters began working on the fixtures last fall, starting first with one he made from used plastic milk containers.
"I'd been saving plastic milk containers for about a year in my studio. I'd had this idea of making a sculpture out of them. I really believe in trying to use recyclable materials. I came up with a sample, and showed it to the architects. They said to go for it."
"The ideas developed over three-quarters of a year. In the spring, I really started developing the forms and came up with the final shapes. I made the frame out of scrap metal."
Another fixture features blue, green and clear glass bottles, industrial chains, copper wire and a fishing net.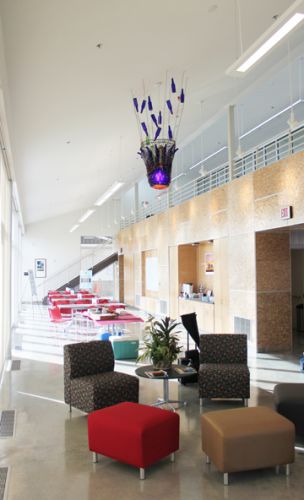 "I had a collection of dark, cobalt blue bottles. I love that color," Peters said. "It took awhile to figure out how to get the light to show through that dark blue. My wife suggested using the net. Then I started combining clear bottles with it. I found some plates at Goodwill to add in there as well."
"For me, the emphasis is that they are made from recyclable materials. I believe we should recycle as much as possible and find uses for materials instead of throwing them away."
According to the Environmental Center, the new building will provide a centralized location to promote more efficient management of the City's environmental and sustainability programs. The Center's education room will assist in fulfilling the City's sustainability mission, "Working together, we will promote a vibrant community through the innovative and wise use of our resources."