The Augustana: Autumn 2012
View from Summit Avenue
A Message from Rob Oliver, President of Augustana College
In October, Americans, and South Dakotans especially, mourned the loss of U.S. Senator George McGovern, the prairie-bred history professor-turned senator-turned presidential candidate whose platform of peace changed a nation. For more than five decades, McGovern worked tirelessly to help our nation and the world toward a goal of social justice for all – regardless of the color of your skin, where you came from or how much money you had. Everyone, McGovern argued, deserved a chance to realize their dreams.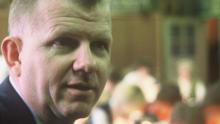 History will most certainly remember him as a pioneer – a tenacious and spirited soul who never stopped fighting for what he believed was right.
As I listened to Vice President Joe Biden speak at McGovern's memorial service in Sioux Falls, I was moved as he described McGovern, a recipient of an honorary doctorate of humane letters from Augustana in 2000, as "a good man." He said McGovern's passion for peace and social responsibility were what inspired him to pursue a career in public service. The gentle WWII veteran from Mitchell, S.D., remained a friend and mentor to Biden until his dying day.
View the Digital Issue
It caused me to think about the importance of mentors – especially those who we revere as pioneers – the brave ones who have the courage to step forward and, despite the odds or opposition, try. They try for something big – something great. Something far beyond themselves that might just make tomorrow's world better than today's.
Since her founding in 1860, our Augustana has seen many pioneers – men and women committed to passing on knowledge and skills, fostering faith and encouraging exploration and discovery in generations of young men and women who have gone on to serve the world in various capacities.
In this issue of The Augustana, on the heels of announcing the most significant building project in our 152-year history, we pay tribute to some of our own pioneers, including the iconic Dr. Sven Froiland, professor of biology from 1946-1987, who not only championed the need for an increased emphasis on faculty and undergraduate research, but also served as a driving force behind the project to build the Gilbert Science Center (GSC), nearly 50 years ago in the mid-1960s.
It makes me very proud to tell you that Augustana's new $30 million science facility will be named in honor of Dr. Froiland.
This issue will also introduce you to some modern-day pioneers who trace their roots back to Augustana, including Dr. Greg Schultz '74, a physician based in Sioux Falls but known around the nation for his efforts to develop new approaches to vascular care. You'll also meet Dr. Carole Miserendino '79, vice president of patient care services and a chief nursing officer for Presence Health Resurrection Medical Center in Chicago. She's spent her career working to innovate and improve the field of nursing and, to this day, still counts Dr. Joyce Nelson '56, professor emerita of Nursing at Augustana, as one of her most treasured mentors. We'll also tell you about researcher Dr. David Bader '74; biologist-turned artist Domonique Venzant '02; our own Dr. Susan Hasseler, senior vice president for academic affairs and dean of the College, and others.
As I have said before, there's a common thread that exists among all pioneers of science. They each believe, all the way, implicitly and unquestionably – that advances in science have the power to cure disease, improve health, enhance processes and even drive healthy economies.
In addition to Froiland, this issue includes the names of iconic Augustana science scholars like Dr. Arlen Viste, Dr. Gil Blankespoor and Dr. Joyce Nelson. Those individuals, along with others such as Dr. J.D. Thompson, Dr. Roy Kintner, Dr. Milt Hanson, Dr. Larry Tieszen, Dr. VR Nelson and Dr. Margot Nelson, worked together to set the culture of discovery that continues today inside the labs and classrooms of the Gilbert Science Center.
We are lucky enough to see the results of their hard work and exceptional dedication in our graduates – countless healthcare professionals, scientific and medical researchers, computer engineers and science educators all working to make a difference on this planet – all using their God-given gifts in service to others.
Today, our natural science majors continue to increase in number. For the 2011-12 academic year, biology majors were up 42 percent; chemistry majors up 51 percent; and physics majors up 28 percent from five years prior. All this growth is occurring inside GSC – a building that has served us well for nearly 50 years but is becoming too small and too old to accommodate our students and the technological requirements required by today's scientific research.
Thanks to a transformational $20 million challenge gift from Sanford Health, combined with commitments from the Momentum Augustana Campaign, we are on our way to reach the $30 million we'll need to complete the new facility. Phase two of the project features a $10 million renovation to the GSC facility.
We're close, but we're not there yet. We need your support to make this dream a reality. I'm hopeful you'll think prayerfully about ways you can support us as we work to raise the remaining funds necessary to complete this project and ensure that Augustana remains fertile soil for scientific exploration and discovery for the next 50 years and beyond.
Enjoy this issue!
Yours, for Augustana,
Rob Oliver
President  
View Past Issues
Winter 2012
Fall 2011
Summer 2011
Winter 2011
Fall 2010