The Augustana: Winter/Spring 2013
View from Summit Avenue
A Message from Rob Oliver, President of Augustana College
Each of you should use whatever gift you have received
to serve others, as faithful stewards of God's grace
in its various forms.
— 1 Peter 4:10 (NIV)
In this Lenten season, we are reminded of the suffering and death of the ultimate servant, Jesus Christ.  We are reminded of this special gift to humankind and celebrate the power God gives us to share our gifts in ways that connect us to others through word, thought and deed.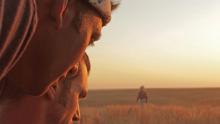 In this issue of The Augustana, we recognize those who are using their God-given gifts to stir the hearts and empower the minds of others through scientific research and the performing, visual and literary arts — and in doing so, are building the connections our world needs to develop ideas, find solutions and experience joy.
These special people are using their gifts to forge new frontiers in science and education; they offer us inspiration and wonder through visual works of art; allow us to experience different parts of the world via chapters in a book; entertain our minds and our senses on movie screens; and captivate our hearts through music and song.
View the Digital Issue
By living out their God-given talents, they are helping to weave the fabric of our futures. When we discover our connection to science or art, or books, or film or music, our perspectives grow and the shape of our thoughts change.
As we developed this issue, we were reminded time and time again of the significance of God's gifts. We're certain you'll be reminded as well as you learn about the chance meeting between our own Dr. Jenny Gubbels, an assistant professor of Biology, and 1982 alumnus Dan Roesler. Today, Jenny and Dan are working together to fight ovarian cancer.
You'll meet artist Kiel Mutschelknaus, class of 2007, who is exploring ways to create art using technology; professional opera singer Lindsay Ammann, class of 2006, who is using her gifts to bring joy to others; rising filmmaker Andrew Kightlinger, class of 2008, whose passion for storytelling comes alive on the screen; literary scientist and Augustana's Writer-in-Residence Dr. Patrick Hicks; and, you'll meet the newest member of our Augustana family, Jerry Olszewski, the new Viking football coach who will use his gifts to impact the lives of young men, helping them become the best student-athletes they can be.
We hope you enjoy this collection of stories about a great group of people we feel blessed to be connected to. Enjoy this issue!
Enjoy this issue!
Yours, for Augustana,
Rob Oliver
President  
View Past Issues
Winter 2012
Fall 2011
Summer 2011
Winter 2011
Fall 2010