Uecker Named Recipient of 2013 Covenant Award for Christian Faith
Phil Uecker, a senior Religion major from Annandale, Minn., was recognized for his exemplary commitment to Christian faith during Monday's Verdier 2013 ceremony, part of a week-long celebration of the core values that serve as the foundation for Augustana's academic and student life programs.
Verdier 2012
March 18-22
"This week, we honor our students who are doing all they can to eliminate borders, promote inclusion, drive change and live as servants of Christ," said Dr. Jim Bies, Dean of Students for Augustana. "We celebrate Phil on this honor and we congratulate each of the students who were nominated for their commitment to living out our value of Christian faith."
A significant tradition at Augustana, the Covenant Awards are named in honor of each of the College's five core values: Christian, Liberal Arts, Excellence, Community and Service. A committee of faculty and staff review nominations from the entire campus community.
Nominees for the Covenant Award for Christian Faith are those who, during their time at Augustana, have searched for a calling that honors the Christian faith; who actively integrate faith and actions; who see their life journey as part of a bigger tapestry; who are growing in faith with Christ; and who are comfortable discussing their faith with others. 
In receiving this award, Uecker is described by his nominators as someone who "embodies the graciousness and hospitality of the Christian faith, who integrates faith with learning." The student FCA leader and a member of the Augustana football team, Uecker plans to attend seminary after spending time working as a forest fire fighter following graduation. He is the son of Lyle and Vicki Uecker.
Verdier 2013 continues throughout the week. Augustana's core values will be celebrated each day and student Covenant Award nominees will be recognized. Upcoming Verdier events include:
Tuesday, March 19: Celebrating the Liberal Arts
Hear Drs. Jeffrey Miller (English & Journalism), Joel Johnson (Political Science/Government and International Affairs), Rocki Wentzel (Classics), Jared Mays (Chemistry) and Mike Mullin (History) "define the liberal arts" in "Fast Five" presentations. The 2013 Covenant Award for Liberal Arts will be presented at 3 p.m. in the Siverson Lounge.
 
Wednesday, March 20: Recognizing Excellence
Watch students take on faculty members in the Quiz Bowl. The 2013 Covenant Award for Excellence will be presented at 5 p.m. in the Siverson Lounge.
 
Thursday, March 21: Embracing Community
Join fellow students and faculty/staff for Viking cookies before the presentation of the 2013 Covenant Award for Community  at 10 a.m. in the Siverson Lounge.
 
Friday, March 22: Lifting up our dedication to Service
Pledge to participate in the April 20 "meal packing day" to benefit Kids Against Hunger. The 2013 Covenant Award for  Service will be presented before the Rendezvous at 3 p.m. in the Back Alley.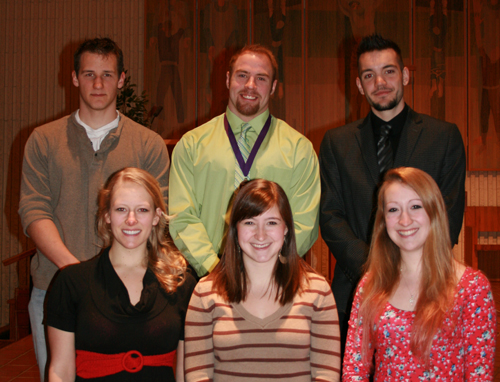 Nominees for the 2013 Covenant Award for Christian Faith:
Front: Callie Stadem, Alaina Heiskary and Alyssa Weber
Back: Kyle Blake, Phil Uecker (Recipient) and Shane LeClaire.
Not pictured: Ben Winkler.