Vikings Crowned NCAA Central Region Champs
Following its 75-74 win over Emporia State in the NCAA Central Region championship Monday night, the Augustana women's basketball team is bound for its first Elite Eight appearance in school history.
In the game last night, senior Alex Feeney was named Most Outstanding Player, scoring 24 points in the championship game and helping to push the Vikings' record to 27-6, breaking the school record for most wins in a season.
Next up, the Vikings will take on No. 1 Clayton State (Ga.) at noon CDT on Tuesday, March 26, at Bill Greehey Arena at St. Mary's University in San Antonio, Tex.
If you can't make it to the game, watch live video online at the NCAA website, or listen to the play-by-play broadcast online by KXRB 1000 AM from Sioux Falls. Take part in watch party get-togethers if you're in Sioux Falls.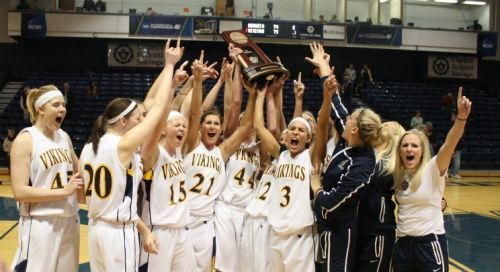 Augustana hoisting the NCAA Central Region Championship trophy