Schoepf Receives Harold Spitznagel Medal for Achievement in Art
Senior art major Sarah Schoepf (Tea, S.D.) has been awarded the prestigious Harold Spitznagel Medal for Achievement in Art, the highest award presented by the Augustana Art Department to student-artists who demonstrate the highest standards of excellence in all their artistic endeavors throughout their Augustana careers. The award, which was presented earlier tonight during the opening reception for the 2013 Senior Art Show in the Eide/Dalrymple Gallery, is only bestowed occasionally and has been given only twice since 2007.
Schoepf left her private practice as a graphic designer to come to Augustana to complete her bachelor's degree. 
"It was not until I enrolled in my first painting class at Augustana that I would find myself being sent in an entirely different direction," said Schoepf. "From the moment I started to paint again, I felt an awakening of my true purpose. I knew it would require me to make many sacrifices in order to achieve that purpose, and I took a leap of faith and started parting ways with my major clients." 
View Photos
View photos from the opening reception.
She majored in art, electing to complete the 60-credit-hour pre-professional art major. Although she focused in painting, she also explored additional media, including printmaking and sculpture. The Art department faculty all noted that her willingness to be a beginner, to try new processes, and to take risks was an important quality in Schoepf.
"One of the biggest lessons I have learned in my art and in my life is there is no growth without risk," explains Schoepf. "You do not bring your work to the next level without taking serious chances."
"Sarah is just one of those hard workers," said Art Professor Steve Thomas. "She has managed to achieve a great deal while preserving her sense of grace, her sense of dignity and her sense of humility—she is a terrific inspiration."
Tom Shields, professor of painting and graphic design, worked with Schoepf extensively throughout her Augustana career. 
"Sarah has maturity, a willingness to take risks, a high threshold to satisfaction with her work, and the all important work ethic," Shields said. "She not only has a very high level of energy, but she has the all important attributes of learning quickly from experiences, exhibiting keen self-criticism and feedback on work in progress as well as completed work." 
Shields also recognized Schoepf's leadership and communication skills.
"She became my 'teaching assistant' in every meaningful way, sans the official title," he said. "Not only does she give excellent advice to other students, both beginning and advanced, but during group critiques she has been over the years the most consistent leader of all our majors. Her verbal skills in communicating the visual language and her insightful ideas in giving constructive criticism are highly developed." 
Fellow students also felt the same way. Many have noted that she was highly approachable and personable, and they would freely approach her for critique of their work. She always gave detailed and constructive feedback, but in a way that still allowed room for individuality and stylistic differences.
While Schoepf left her private practice, she did not leave her graphic design work behind. While a student, her design for the Sioux Area Metro was selected and now adorns the Sioux Falls transit buses. Schoepf and Augustana art graduate Regina Brunz ('12) together designed wine labels for White Headed Robin Winery in Viborg, S.D. Most recently, Schoepf's shirt design was chosen for the 2012 Sioux Falls Jazz and Blues Festival
"With each day and sleepless night that I am in the studio, I have continued to grow as an artist and exceed beyond what I thought was imaginable," Schoepf said. 
View photos of the 2013 Senior Art Show opening reception.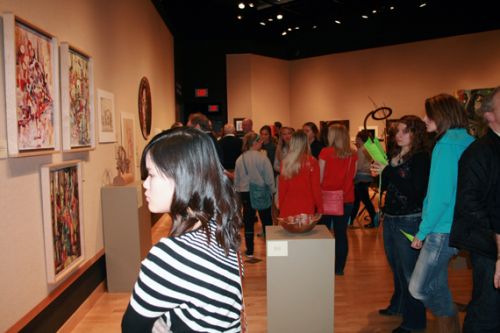 The opening reception for the 2013 Senior Art Show in the Eide/Dalrymple Gallery.