Augustana Graduate Wins Academic Scholarship at Miss Minnesota
Although she graduated from Augustana last month, that's not stopping Drew Trahms from seeking further academic achievement.
Earlier this month, Trahms, a native of Janesville, Minn., competed in the Miss Minnesota pageant, and received the Miss America Academic Scholarship, an award given to one contestant at every state-level associated pageant. She was also awarded one of five Quality of Life scholarships given at the pageant.
Trahms graduated summa cum laude with majors in government/international affairs and economics in only three years. She also found time to add a history minor.
An active student on campus, Trahms was involved with the Augustana Spirit Squad, was a statistics and economics tutor, and the president of COUPS (Committee of Undergraduate Political Scientists), among other activities.
Her platform for the competition was "United We Stand- Bridging Cultural Differences." During her time as Miss Waseca County Sleigh and Cutter, her local title, she was involved with community schools and encouraged development of cultural lesson plans.
"The title of Miss Waseca County Sleigh and Cutter has allowed me to better understand the impact I can have on my community and the world around me," said Trahms. "Because I dedicated my year to promoting a platform aimed at reducing racial tension and preparing students for a globalized world, I was able to channel my passion for cross cultural learning and the lessons gained at Augustana into making a difference." 
The competition has several components including talent, evening wear, interview, and swimsuit. Trahms performed a dance for her talent.
Trahms plans to further her education in the fall of 2014, going for her Juris Doctorate and Master's in Public Policy.
To read about her time as Miss Waseca, visit her blog.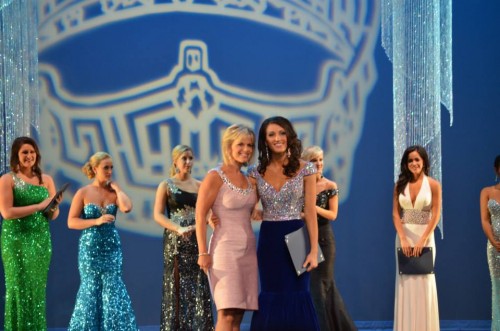 Above: Drew Trahms receives the Miss America Academic Scholarship from Gretchen Carlson, former Miss America.
— Kristina Johnson '13