Host, Friendship Families Sought for International Students
Last fall, Kristi Desaulniers, a fourth grade teacher at the Tea Area Intermediate School, and her husband, Ron, had an opportunity to experience another culture within their own home.
Having lived and traveled abroad, the Desaulniers said they "really enjoyed being with folks from other countries, as it's so interesting and there is so much to learn from them." When they learned about Augustana's Host Family and Friendship Family program, they jumped at the opportunity.
"It is important that our children are exposed to other ways of thinking and doing," Kristi Desaulniers said. "It gives them a better understanding of our interconnected world on a personal basis."
During the 2012-13 academic year, the Desaulniers family hosted Tanya Kulik, a junior education major from Kazakhstan. Kulik studied at Augustana as a part of the U.S. State Department Global UGRAD, a full-time, non-degree program that combines study with community service, internship and cultural enrichment elements.
The experience was memorable for both Kulik and the Desaulniers.
Learn More

The IPO is seeking 50 area families to participate in the Friendship Family Program, providing support to students from various countries around the world during the 2013-14 academic year. Contact Erin Kane or call 605.274.5050.
"We showed (the students) different areas of South Dakota and let them experience life on a farm," Desaulniers said. "Sharing our family traditions and hearing about traditions of other cultures was a lot of fun!"
This year, families in the Sioux Falls area will, once again, have the opportunity to participate in the College's Host Family and/or Friendship Family program as Augustana welcomes approximately 75 new international students, representing more than 40 countries from all over the world. The program is an initiative designed by Augustana's International Program Office (IPO) to provide a support network for these students as they study and travel in the United States.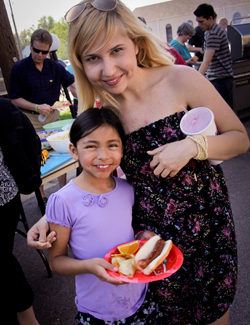 "Every staff member we've met at the IPO is very welcoming, friendly, and approachable," Desaulniers said. "When a question arose about something, communication was prompt and supporting and we didn't feel silly for asking."
Desaulniers says she recommends this program for families in the Sioux Falls community.
"The students we've hosted were involved in various aspects of our family's daily lives, which was enriching for all of us," she said. "We look forward to expanding our family once again this fall!"
Friendship Family Program
The Friendship Family Program is designed to give a new student a family contact in Sioux Falls. The family does not provide lodging. Instead, the family makes a commitment to befriend a new student and to provide opportunities to have a home-cooked meal once or twice a month or to participate in various cultural or community activities throughout the year.
Save the Date: Friendship Family Kickoff
Wednesday, Sept. 4
5:30-6 p.m.: Introduction at Morrison Commons, 3-in-1 Room
6-8 p.m.: Dinner at Your Home
Host Family Program
On Friday, Aug. 9, four students from Pakistan, Ukraine, and Kazakhstan will arrive in Sioux Falls. Each student will need a host family for two weeks prior to the start of the school year.  Augustana would like to pair each student with a host family willing to provide room and board; transportation to the college Monday-Friday (The IPO will provide orientation and cultural programming each day, Monday through Friday, from 9:00 a.m. to 5:00 p.m.); and family and cultural activities during the evening and weekends from Aug. 9 - 23. The students will move into their on-campus residence halls Friday, Aug. 23. Host Families and students can choose to continue their relationship through the Friendship Family Program (description above).
To learn more about these programs and to request application forms, email International Student Advisor Erin Kane or call 605.274.5050.
- Chi Ngo '13
PHOTO AT RIGHT: Junior Tanya Kulik, an education major from Kazakhstan, poses with a member of the Desaulniers family, her Friendship Family for the 2012-13 academic year.