Sioux Falls Fire Rescue Members Train at Augustana
Members of Sioux Falls Fire Rescue (SFFR) conducted high-rise fire training at Granskou Residence Hall on Augustana's campus Thursday morning. The event involved real-time training scenarios in full firefighter gear simulating actual high-rise fire conditions. Today's training was one of multiple high-rise fire training events SFFR has held on campus throughout the summer.
At eight stories tall, Granskou is an ideal venue to practice high-rise rescues, Fire Rescue officials said. During the event, the entire building was filled with simulation smoke and 180-pound rescue mannequins were placed throughout the floors.
Rick Tupper, director of Campus Safety at Augustana, said the campus community benefits when these types of training scenarios are held on campus.
"It's important for Augustana to be involved in this training because it brings the Fire Department on campus. It allows firefighters to become familiar with our buildings and our systems so if we ever have a crisis situation, they've all been through them. It's also important for the overall life safety of our firefighters. If we can keep them trained, it means they're going to be safe and, in turn, they'll keep us safe."
Members of the media were invited to observe, video, and interview those involved with the training.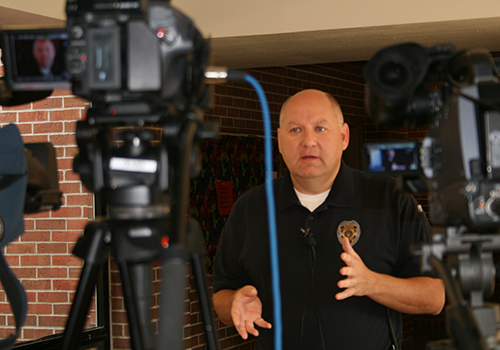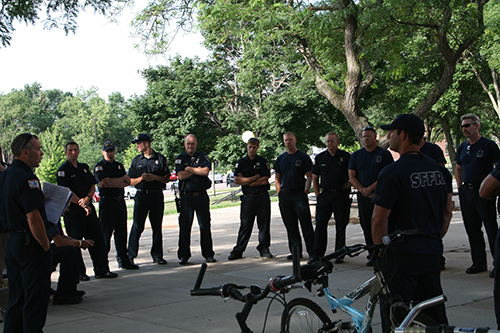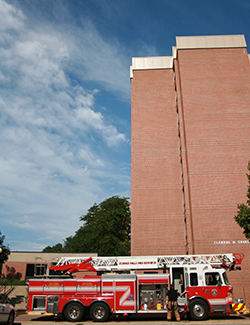 TOP: Director of Augustana Campus Safety Rick Tupper visits with members of the media prior to the start of Sioux Falls Fire Rescue's high-rise fire training Thursday at Granskou Hall. SECOND: Firefighters practice carrying gear into the building. THIRD: Members of Sioux Falls Fire Rescue discuss the strategy for the training prior to entering the building. FOURTH: A firetruck is positioned outside Granskou Hall in support of the training exercise.