Exploring Augustana Offices
With the start of the 2013-2014 academic year less than a month away — and students moving in even earlier — all of campus is preparing for the new semester, including faculty and staff.
Across campus, the offices of Augustana faculty and staff reflect the personalities who inhabit them. Take Dr. David O'Hara (Philosphy), who has an entire corner of his Humanities Center office devoted to tea. With at least 40 varieties and just as many mugs, O'Hara is a serious tea connoisseur. He has received tea from all over the world, including Vietnam, Hawaii, and China.
"That hot mug does help philosophy in one small way, too: it gives us permission to think more slowly," Dr. O'Hara said. "And since sipping tea and talking can't both be done at the same time, it gives them [students] something to do while they're trying to formulate questions."
Inside the Gilbert Science Center, Dr. Jetty Duffy-Matzner's office contains many chemistry-related objects: goggles, a chalkboard with a chemistry equation, and lab coats. She also contributes to the Department of Chemistry's collection of non-Element related periodic tables with her Periodic Table of Desserts. The department also has vegetable and elephant versions.
More Photos
View more faculty and staff offices and the unique objects found inside them.
Strolling through the Madsen Center, you can't help but notice the office belonging to Dr. Reynold Nesiba (Economics). While some use the Dewey Decimal system to organize books, Dr. Reynold Nesiba has a unique object identifying his Karl Marx shelf from the rest: a finger puppet of the famed economist. Nesiba uses the puppet when teaching the Marxian economics unit.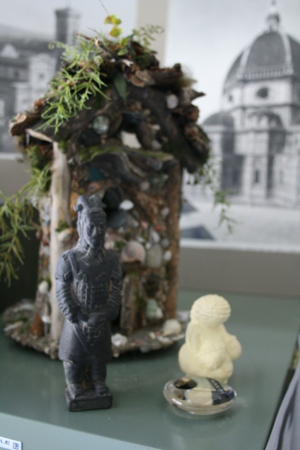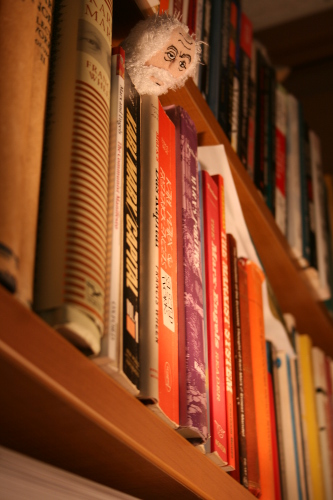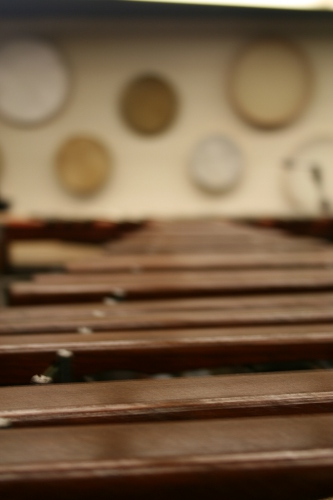 Top right: A handmade lamp, given as a wedding present, sits in Jeff Venekamp's office.
From left to right: Topping Dr. Lindsey Twa's file cabinet is a terra cotta warrior replica, a gnome house and old art history materials featuring the Florence Cathedral, the location of her marriage proposal. A Karl Marx fingerpuppet sticks its head out of Dr. Reynold Nesiba's bookshelf. A West African xylophone sits in Dr. Pennington's office. Behind it are drums from around the world.
-Kristina Johnson '13