Report: 'Sioux Falls is the Center of the Economic Universe'
"American Futures," a collaborative project led by Kai Ryssdal with American Public Media's "Marketplace" and James Fallows, a writer for The Atlantic, seeks to identify the face of the American economy today from smaller cities and towns across the country.
The project, which will "take journalists on a cross-country trip to document the dramatic economic, technological, cultural, and social changes under way in small towns and cities across the nation," began in Sioux Falls.
The endeavor includes a collection of features about the city that illustrate its economic position; its thriving businesses which operate both locally and globally; and its residents.
While here, Ryssdal and Fallows spent time on campus interviewing current and former Augustana students and faculty members.
Read more about the project on Marketplace.org and on TheAtlantic.com, including this piece featuring research by Augustana Professor Emeritus of History Dr. Gary Olson.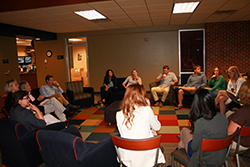 PHOTOS: While researching the Sioux Falls segment of "American Futures," reporters James Fallows (left, of The Atlantic) and Kai Ryssdal (right, of American Public Media's Marketplace) spent time on the Augustana campus and interviewed current and former students and faculty members.