Students Register to Vote
Earlier this week, students from Dr. Emily Wanless' "American Presidency" class, along with student representatives from COUPS (Committee of Undergraduate Political Scientists), the Augustana College Republicans, and the Augustana Democrats, helped their fellow students register to vote during a voter registration drive inside Morrison Commons.
The initiative registered 30 new voters from South Dakota, Minnesota and Iowa.
According to a 2012 U.S. Census survey of 18-24 year olds, less than half (49.4 percent) reported that they are registered to vote. Of those, only 38 percent reported actively voting. Statistics like those, Dr. Wanless said, are why voter registration drives are so important.
"I think one reason it's so important for colleges like Augie to hold voter registration drives is because they are able to target the segment of the population that needs the most encouragement. Voters 18-24 have historically had the lowest voter turnout rate, largely because they do not feel incorporated into the system, or that their opinions matter. However, they are the segment of the population that has the most at stake when decisions are made in this country, and that their opinions will never matter if they don't voice them (by voting)," said Wanless.
"When a voter registration drive is held on campus, as opposed to at the DMV or county courthouse, the urging comes from [student] peers and the issue is given importance and legitimacy. Studies show that young voters respond to such targeting, and are more like to register to vote when they understand the importance of registering and feel like their voice can and should be heard through the process of voting," Wanless continued.
Interested in registering to vote? Visit the South Dakota Secretary of State's Office online.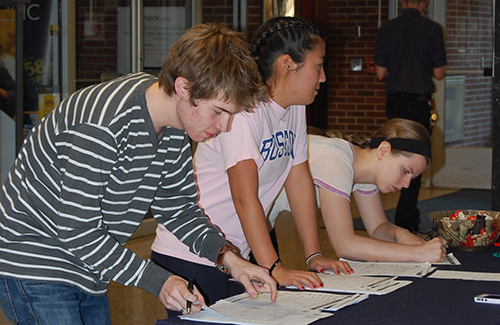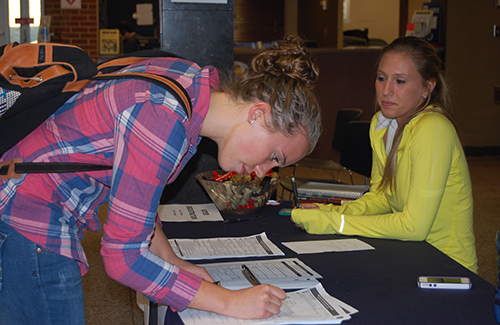 Students register to vote during the Voter Registration Drive held this week inside Morrison Commons. Photos by Chi Ngo '13.