Anderson, Strenge Crowned Viking Days King and Queen
Seniors Matthew Anderson and Amanda Strenge were crowned King and Queen of Viking Days 2013 at Coronation on Monday in the Elmen Center.
Anderson, a native of Sioux Falls, is a biology major who also serves as president of the Augustana Student Association. Strenge, also a native of Sioux Falls, is a philosophy and English major.
Joining Anderson and Strenge as members of the 2013 Royal Court are: Claire Bestul (Faribault, Minn.), Patrick Brende (Sioux Falls), Jesse Fonkert (Mobridge, S.D.), Emily Grandprey (Sioux Falls), Kade Klippenstein (Hot Springs, S.D.), Andrew Paulson (Jackson, Minn.), Emily Weber (Sioux City, Iowa) and Krista Youngberg (Sioux Falls).
Viking Days 2013 continues throughout the week with more events for students and alumni, including Hypnotist Kevin Hurley beginning at 7 p.m. on Tuesday, Oct. 15, in the Humanities atrium with desserts and jazz music. Hurley will take the stage at 8 p.m. in Kresge Recital Hall. View more Viking Days events for students.
Later in the week, the campus community, alumni and friends will celebrate homecoming with an All-Class Reunion featuring the 60th annual celebration of Viking Varieties on Saturday, Oct. 19, at the Washington Pavilion.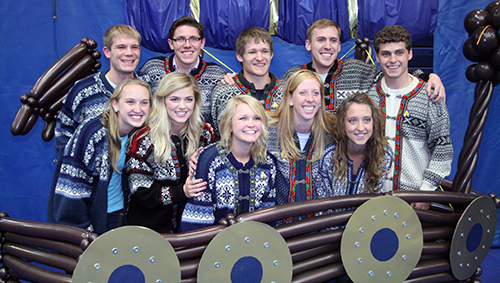 2013 Homecoming Court: Back Row: Andrew Paulson, Jesse Fonkert, Kade Klippenstein, Patrick Brende, Matthew Anderson. Front Row: Emily Weber, Emily Grandprey, Claire Bestul, Krista Youngberg, Amanda Strenge.