Thousands Return for Viking Days; Oliver Announces $18 Million Milestone for Science Project
The thousands of Augustana alumni who returned home last weekend to celebrate Viking Days heard a major announcement from President Rob Oliver following Saturday night's anniversary presentation of Viking Varieties at the Washington Pavilion.
"We're at $18 million," Oliver said, referring to Augustana's fundraising efforts to build a new science facility and its plans to renovate the Gilbert Science Center, the current home for its Natural Sciences division.
"Eighteen million!" Oliver shouted again, referring to cash and pledges received in support of the project, as a cannon shot out confetti and members of the Augustana Cheer Team held up numbers illustrating the figure.
The Science Center Project, the largest and most sophisticated building endeavor in Augustana's 153-year history, is designed to support the growing number of natural science majors and the College's student-faculty research program. The new facility will be named in honor of the late Dr. Sven Froiland, a longtime biology professor and a champion of scientific research at the College.
Wearing a white lab coat and safety goggles as a playful nod to scientific research, Oliver went on to thank a group of nearly 100 "leadership investors" who have committed $10,000 or more to the project.
He then asked those in attendance to lend their support as well. Learn more about the Science Center Project.
The announcement came at the high point of an event-filled homecoming weekend for Augustana, beginning with coronation on Monday, Oct. 14, where seniors Matthew Anderson and Amanda Strenge were crowned King and Queen.
On Friday, Oct. 18, the College inducted members of the Class of 1963, celebrating their 50th class reunion, into the Honor Guard. That evening, the achievements of alumni were recognized at the Blue & Gold Gala and the Hall of Fame Banquet, both held at the Holiday Inn City Centre.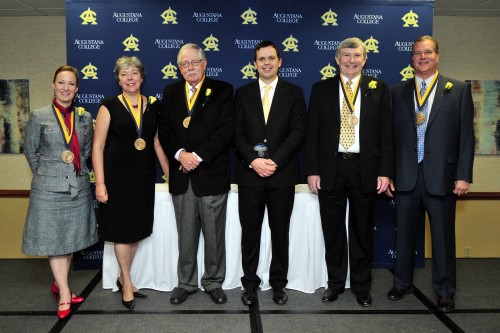 Alumni Achievement Awards, presented each year to Augustana graduates who have made outstanding contributions to their fields of endeavor, their communities, and/or their churches, were presented to (shown at right, from left to right): Jackie Pederson-Kriens '89, Linda Hofstad '70, Richard Gregerson '57, Nate White '00 (Horizon Award), Evan Nolte '65 and Jeff Fylling '78.
Former Augustana student-athletes who distinguished themselves in various competitions were inducted into the Augustana Athletic Hall of Fame: Jon Vik '88, Paula U'Ren '95, Neil Matthiesen '94, Lindsay Voss Wilber '00 and Bill Reitter '77. In addition, Matt Musiel '89 received the Ole Odney Award, Les Carson was recognized as the Lefty Olson Award recipient, and Kent '58 and Judy Morstad were honored with the Milt & Clara Harvey Award.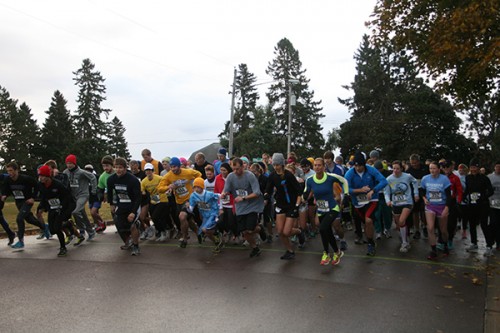 On Saturday morning, more than 200 runners and walkers participated in the second annual Langskip 5K. View photos from the Langskip 5K.
From there, alumni, students, faculty/staff and friends took part in the outdoor Pancake Feed to benefit the Performing and Visual Arts Department ahead of the Viking Days Parade, which ran along Grange Avenue. View photos from the pancake feed and parade.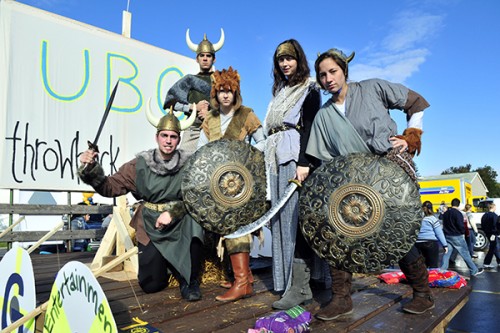 Following the Vikings' 35-6 win over Upper Iowa at Kirkeby-Over Stadium Saturday afternoon, nearly 2,000 alumni, students and campus community members attended the All-Class Reunion and 60th anniversary presentation of Viking Varieties at the Pavilion. View photos from the game.
The Varieties show featured a cast of more than 200 students and alumni and featured the Augustana Orchestra, led by Dr. Christopher Stanichar, and Augustana's choral ensembles led by Dr. Paul Nesheim, Dr. Lisa Grevlos and Dr. Russell Svenningsen. The show included a tribute to Dr. Harry "Doc" Krueger, professor emeritus of music and founder of the Brass Choir. View photos from Varieties.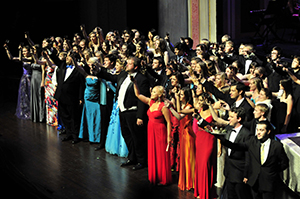 Following the Varieties show, attendees returned to the lobbies of the Pavilion to enjoy desserts, dancing, a photo booth and fun with friends at the Afterglow. View photos from the Afterglow.
The weekend concluded on Sunday with worship in the Elmen Center, led by Campus Pastor Rev. Dr. Paul Rohde with a sermon by Rev. Jeff Barrow '73, bishop of the Greater Milwaukee Synod, ELCA, and featuring Liturgical Dancing by Sami Rost '15 and Jackie Pederson-Kriens '89. View photos from Viking Days Worship.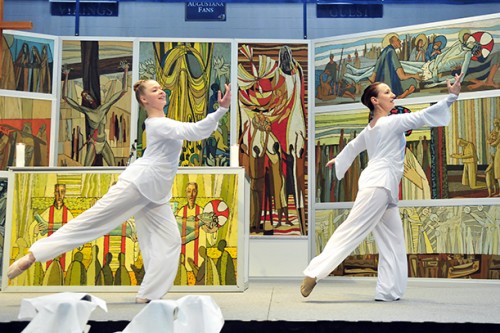 Students, parents, alumni and friends: Save the date for Viking Days 2014 and join us on campus October 31-November 2.