Call for Artwork: Juried Exhibit to Celebrate SD Quasquicentennial
The Center for Western Studies (CWS) at Augustana today announced a juried art exhibit and sale of original works of art by current and past residents of South Dakota in observance of the state's 125th anniversary of statehood. The exhibit and sale, which will run June through September, is entitled "South Dakota 2014: Artists Respond to the State's 125th Anniversary."
The exhibit carries a $2,500 grand prize and$1,500 in additional cash prizes, funded by the Center for Western Studies.
Native American artists are encouraged to share their unique perspectives on ways in which statehood has impacted the lives of indigenous peoples.
Proposal Form
For the official South Dakota Centennial Finale in 1989, the Center for Western Studies sponsored the "Great Plains Art Show and Sale," which was held in Pierre and featured 25 South Dakota artists.
For the 2014 exhibit and sale, artists must submit a proposal for the single work of art to be judged. The deadline for the proposal is Friday, Jan.17, 2014. Both two- and three-dimensional pieces are welcome, but the work of art must be suitable for display on a gallery wall or pedestal.
The proposal must include a brief artist's statement about the work as a response to the observance of South Dakota's 125th anniversary.
The panel of judges will include members of the Art Committee of the Board of Directors of the Center for Western Studies and others appointed by the Board.
Important 2014 Dates:
Friday, Jan. 17: Deadline for artist's proposal (completed form, portfolio, and sketch/description of artwork)
Friday, Jan. 31: Notification of acceptance into the Juried Art Exhibit and Sale
Friday, May 30: Completed artwork delivered to the Center for Western Studies
Tuesday, June 10: Exhibit and sale premiere (invitation only)
Thursday, June 12: Public reception for exhibit and sale
Saturday, Sept. 27: Exhibit and sale closes
The exhibit and sale will be held in the Fantle Building of the Center for Western Studies, located on the Augustana campus at 2121 S. Summit Avenue. The Madsen/Nelson/Elmen Galleries in the Fantle Building provide one of the largest permanent gallery spaces in the region.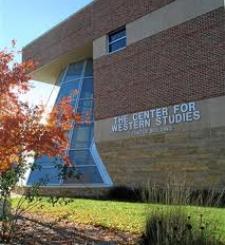 The Center for Western Studies has long been a supporter of the arts in South Dakota and the surrounding Plains region. For South Dakota's State Centennial in 1989, CWS Executive Director Dr. Harry Thompson directed the three-year "History of the Arts in South Dakota" project (1986-1989). Sponsored by the South Dakota Arts Council and South Dakota Humanities Council, the project produced a bibliography of South Dakota arts resources and the book "An Illustrated History of the Arts in South Dakota," written by Arthur Huseboe and Arthur Amiotte and published by the Center for Western Studies.
The Center annually sponsors the Artists of the Plains Art Show and Sale featuring 25 artists from as many as seven states. The 34th Annual Artists of the Plains event will be held February 14-16, 2014, at the Holiday Inn City Centre in downtown Sioux Falls.
For more information, contact Dr. Harry Thompson, executive director, Center for Western Studies.
Proposal form and additional information may be obtained from Kristi Thomas, education assistant, Center for Western Studies, 605.274.4007.