Opera Directed by Lisa Grevlos Earns National Award
Sounds of South Dakota's 2012 opera production of W. A. Mozart's "The Magic Flute," staged and directed by Dr. Lisa Grevlos, associate professor of music and president of Sounds of South Dakota, Inc., was awarded second prize in the National Opera Association's 2012-13 Professional Opera Production Competition.
"The Magic Flute" shares the colorful fairytale story of an Egyptian prince and his unexpected landing in a mysterious land. The South Dakota Symphony Orchestra orchestrated the production, and its music director, Delta David Gier, was the music conductor.
The Professional Opera Production Competition was created "to encourage and reward creative, high quality opera productions in small professional opera companies and opera training programs, including academic institutions, music conservatories, summer opera training programs and opera outreach programs."
Entries in the competition were judged on the basis of the stage director's concept and artistic choices for the production, combined with a videotaped recording of the production. Professional opera companies were adjudicated in one category, and the panel took into consideration the production budget, size of overall music organization and the level of vocal training of the cast members. Recent winners in this category include Ensemble Parallele in San Francisco, Calif., and Juventas New Music Ensemble in Boston, Mass.
"This is an exciting honor for Sounds of South Dakota, Inc.," Grevlos, Augustana class of 1987, stated. "It speaks highly to the level of musical talent here in the state and connected to South Dakota. To receive national recognition that has been bestowed upon some of the most outstanding opera programs in the United States is an amazing achievement for everyone involved in bringing this production to life." 
Grevlos has been invited to New York to receive the award on behalf of Sounds of South Dakota, Inc. at the National Opera Association Gala dinner, set for January 2014.
Since 1955, National Opera Association has worked nationally to promote appreciation of opera and music theater, as well as educational opportunities for those studying the craft, with the goal of improving the scope and quality of opera nationwide. The Professional Opera Production Competition is open to all small regional opera companies in the United States and all college and university opera programs.
Sounds of South Dakota, Inc. was founded in 2003 and is dedicated to bringing the best of opera and vocal music to the state. A concert production of Johann Strauss' opera "Die Fledermaus" is set for Saturday, Jan. 25, 2014, at 7 p.m. in Kresge Recital Hall. Tickets are available starting Sunday, Dec. 1, at www.soundsofsouthdakota.org.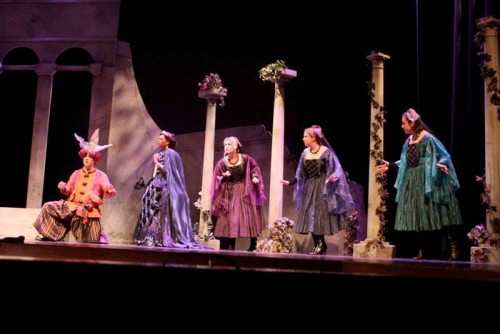 Photo: Act II Finale from Mozart's "The Magic Flute," with Thor Gesteland (Monostatos), Brittany Ann Robinson (Queen of the Night), Stacey Stofferahn-Uthe (First Lady), Tracelyn Gesteland (Second Lady) and Emily Toronto (Third Lady).