Students Act to Support Typhoon Haiyan Relief
Typhoon Haiyan, the year's most powerful super storm, affected a total of 9.5 million people and displaced at least 600,000 across the Philippines. Survivors are described as being in desperate need of clean drinking water and food.
To offer relief to Haiyan survivors, Augustana Serving and Learning Together (SALT) has made donation jars available in the Huddle, the Chapel of Reconciliation and inside residence halls. All contributions will be donated to the United Nations Children's Fund (UNICEF).
UNICEF is taking donations to help provide children with shelter, clean water, nutrition and vaccines. The organization's representatives said its staff in the Philippines is being repositioned to help in relief efforts and 66 tons of emergency supplies are being sent from Copenhagen. An airlift set to arrive on Tuesday will include water purification systems, storage equipment and sanitation supplies.
As many as 41 provinces were affected by the typhoon, known as Haiyan elsewhere in Asia but called Yolanda in the Philippines.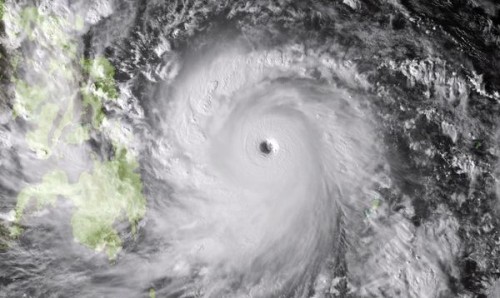 Photos: Top: Typhoon victims wait to be evacuated at the airport in Tacloban, on the eastern island of Leyte on Nov. 12, 2013 after Super Typhoon Haiyan swept over the Philippines. (Photo credit: Getty Images.) Bottom: A satellite image of the typhoon. (Photo credit: National Geographic.)