Senior Represents USA Rugby in France
Before her freshman year, senior Kaitlyn Foss (Pipestone, Minn.) didn't even know what rugby was. But that didn't stop her from falling in love with the sport when she attended an Augustana Women's Rugby practice. Last month, three years and hundreds of practices later, she found herself representing USA Rugby in France as a member of the USA Rugby AIG Women's Collegiate All-Americans (WCAA) team.
Foss's rugby career started in 2010 when she joined the Augustana Women's Rugby team, coached by Bryn Chivers, who also coaches the Great Plains regional team. During her sophomore and junior year, Foss was selected to play for the Great Plains team, which gave her the opportunity to meet with WCAA Head Coach Martha Daines at a tournament in Davenport, Iowa.
"I started getting in shape and set making the WCAA team as my number one goal," Foss said.
The WCAA team consists of the best college rugby players in America. Daines selected her players throughout the year, with two regional camps and a Top 40 camp. Foss was among 150 female collegiate players in the country to be invited to attend a regional camp at James Madison University (Va.) in June 2013, and made it to the Top 40 Camp at the University of Northern Colorado (Greeley) in July 2013. After the camps, only 24 women were selected to participate in a test match against the Twin Cities Amazons. From there, Foss was among those invited to travel with the WCAA to France.
The team left for France on Friday, Nov. 22 to play two matches against Paris-Bobigny and Rennes – two of the top four women's club teams in France. On Thanksgiving Day, Paris-Bobigny hosted the WCAAs in Paris, where the WCAA won 20-19. On Nov. 30, the young women traveled to Rennes for a match against Rennes, where they lost 46-21.
"My time in France was amazing," Foss said. "It was an honor to represent the U.S. No words can describe the feeling of standing on the field before the match and hearing our national anthem being played."
An athletic training major, Foss plans to continue her education and rugby career after graduating from Augustana.
"I would like to move or go to school in either the Twin Cities to play for the Twin Cities Amazon, or Colorado to play for the Glendale Raptors," Foss said. "My next goal is to make it on the Women's National Team."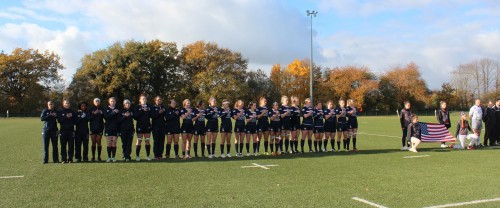 Photo: WCAA team representing USA Rugby in France.
- Chi Ngo '13