Slade Larscheid Named Director of Athletics
President Rob Oliver announced at a news conference today that Slade Larscheid has been named Augustana's director of athletics. Larscheid replaces Bill Gross who, after 28 years as Augustana's athletic director, stepped down to take a position in the College's Advancement Office as a Senior Gifts Officer. 
"With his rich experience in athletics, both as a student athlete and as an administrator, Slade Larscheid is the one to lead Augustana athletics into the future," Oliver said. "His passion for the student-athlete experience, combined with his management skill, documented record of fundraising success with alumni and donors of all ages, and his deep knowledge of Sioux Falls and this region make him perfectly suited for this important role. We are delighted and excited to welcome him to our leadership team."
Larscheid, a native of Spearfish, S.D., is currently the athletic/activities director at Roosevelt High School in Sioux Falls and has 10 years of experience as an administrator at the collegiate level. At Roosevelt, Larscheid is responsible for budget oversight of the athletics and fine arts programs and is one of four senior administrators serving 2,100 students. He was directly involved in soliciting 10 corporate partnerships at Roosevelt, providing multi-year agreements for revenue generation.
"I personally want to thank President Rob Oliver, Bob Preloger, Dr. Marcia Entwistle and the entire search committee for this special opportunity to lead Augustana athletics," Larscheid said. "I look forward to serving and supporting the student-athletes, coaches and the entire Augustana College community. As a staff, we will continue to work hard to provide the necessary resources for success in the classroom, in competition and life after graduation. I cannot wait to hit the ground running and join the Augustana family."
Prior to Roosevelt High School, Larscheid was the associate athletic director for Development at South Dakota State University from 2011-2013, where he was the liaison between the SDSU Foundation and the University. He served as the sport administrator and supervisor for women's basketball and the men's and women's tennis programs and the Jackrabbit Club, SDSU's athletics fundraising arm for annual support. He managed a portfolio of 80-plus major gift donors and businesses and personally solicited more than $1.7 million for the indoor practice center.
Larscheid chaired the Jackrabbit Athletic Scholarship Auction and went from raising $370,000 in 2012 to more than $500,000 in 2013. He was responsible for record highs in donors and dollars raised in 2012 and 2013 and helped increase membership in the Jackrabbit Club and Letterwinners Club. Larscheid coordinated day-to-day operations of the athletic development office and was involved in the oversight and evaluations of staff and administrative staff.
Larscheid spent October of 2009 to February of 2011 at Northern Illinois University as the Director of Development. At NIU, Larscheid was the lead fundraiser for the Huskie Athletic Scholarship Fund and cultivated annual donors, focusing on gifts between $1,000-$10,000. He helped generate over $1.4 million and 1,500-plus donors at NIU, which were both record highs and managed the football "Coach Jerry Kill – Red Zone" and the men's basketball fundraising "Club 64," including budget, marketing plan, solicitations, strategies and special events.
Larscheid got his start in collegiate athletic administration at his alma mater Northwestern University in Evanston, Ill., where he was a graduate assistant in marketing before going to the University of South Dakota as the Assistant Director of Development in 2007-08. Larscheid is a 2006 graduate of Northwestern University where he was a three-year letter winner on the football team and earned Big Ten Conference Scholar Athlete honors as a senior.
Larscheid earned his Bachelor of Science Degree at Northwestern University in Communication Studies and his Master of Arts in Sports Administration in 2008. Larscheid was a standout athlete at Spearfish High School where he was a three-year letter winner and an all-conference punter.
Larscheid resides in Hartford, S.D., with his wife Stephanie and their son Mark.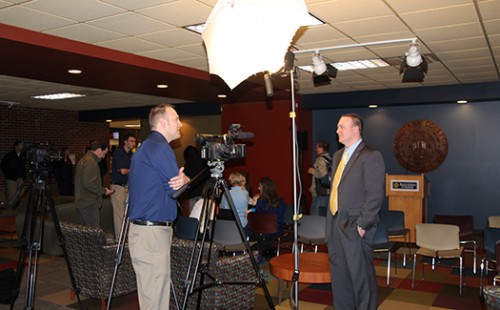 Slade Larscheid (right), Augustana's new director of athletics, visits with a reporter following the news conference announcing his appointment.