Class of 2014 Celebrates Commencement
They are the change-makers and problem-solvers of tomorrow – nearly 400 young men and women from throughout the U.S. and around the world who together make up the Augustana class of 2014. On Saturday, they celebrated their accomplishments before thousands of their biggest fans – their professors, parents, grandparents, siblings and friends – at Commencement.
Held at the Elmen Center on campus, 348 graduating seniors participated in the ceremony while an additional 35 graduated in absentia for a total class of 383 graduates.
The event marked only the second time since 1949 that Commencement has been held on campus.
The ceremony's speakers included: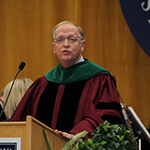 Dr. H. Eugene Hoyme '72, chief academic officer for Sanford Health and president of Sanford Research. A double major in chemistry and biology, Dr. Hoyme graduated from Augustana in 1972. He then attended the Pritzker School of Medicine at the University of Chicago where he earned his Doctor of Medicine degree.
After choosing pediatrics as his specialty, he completed his residency at the University of California, San Diego. There, he studied genetics under one of the institution's top geneticists and was later offered the chance to complete a post-doctoral fellowship in genetics. Following his fellowship, Dr. Hoyme went on to serve at the University of Vermont as a practicing physician and assistant professor, and later at the University of Arizona in Tucson, where he started the institution's medical genetics program.
After 12 years in Arizona, he joined Stanford University where he spent a decade serving as director of the Stanford/University of California Medical Genetics Residency Program, and later as professor of pediatrics and chief of Medical Genetics at the University's Lucile Packard Children's Hospital. In 2007, he returned to his native South Dakota to serve as the chief medical officer at Sanford Children's Hospital in Sioux Falls and to chair the Department of Pediatrics at the Sanford School of Medicine at the University of South Dakota, overseeing the establishment of a new pediatric residency program. Because of his work, today he is a nationally recognized and award-winning authority on clinical genetics and fetal alcohol syndrome. Dr. Hoyme serves as chief academic officer for Sanford Health and president of Sanford Research. He also serves as the medical director for Sanford Imagenetics, an innovative program he helped envision and design that integrates genomic medicine into primary care for adults.
During the ceremony, Hoyme was presented with the Spirit of Augustana Award for Research and Innovation.
"The Spirit of Augustana Award for Research and Innovation recognizes individuals who have the courage to try and the resilience to try again," said Augustana President Rob Oliver when presenting the award. "These are the pioneers who understand and appreciate the unmet needs of others, and who are passionately driven to seek and find ways to save lives through the wonders of science. As fellow citizens, we revere those who research and innovate and, as importantly, who encourage research and innovation in others."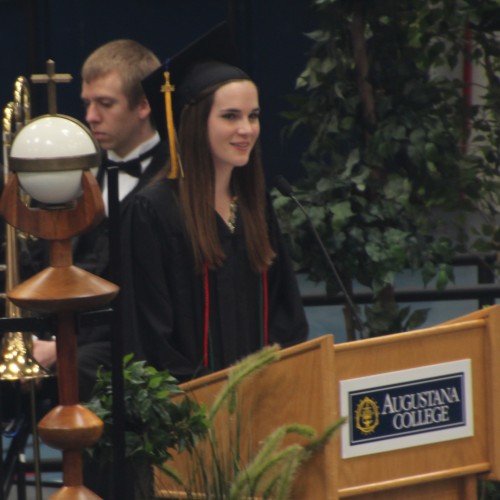 Julia Blue '14 (Brandon, South Dakota). A biology major and music minor, Blue serves as vice president for The Augustana Choir, is a member of Chamber Choir, Opera Theatre and Outreach Ministries. She has served as a chapel musician and has been a castmember of Viking Varieties, Augustana's annual student talent show held during homecoming weekend. In January 2013, Blue was part of The Augustana Choir's 20-day tour of Europe with stops in Germany, the Czech Republic, Austria and Slovakia. She has completed internships at The Birth Place at Sanford Health and at Sanford Research, working under Dr. Kristi Egland. After Augustana, Blue plans to spend a year working at a vineyard in Napa, California, before attending medical school. She is the daughter of Dr. Dan and Becky Blue, both Augustana class of '81.