Semester Shutdown, Midnight Madness Prep Students for Finals Week
Ahead of finals week and the close of the spring semester, Augustana students took time for some fun on Saturday during Semester Shutdown, then hit the books during Midnight Madness on Sunday.
Semester Shutdown activities included a pingpong tournament, a caricature artist, massages, student concerts in the Back Alley, a Brand Name Improv performance in the Theatre, a "Hot Wing" challenge, cookie decorating and bingo and breakfast in the Dining Room.
Juniors Cathryn Hartz and Jackie Adelmann took part in the shutdown and had their caricatures drawn by artist Tony Biggar ahead of breakfast and bingo.
"It's a great way to blow off steam before finals and it's fun to see people who've been busy studying," Adelmann said.
On Sunday night, Our Savior's Lutheran Church opened its doors to Augustana students for its 13th annual Midnight Madness. The event, which ran from 6 p.m. to midnight, is organized by OSL members and is designed to provide students with additional spaces to study ahead of finals, along with healthy snacks.
Nancy Krueger, an OSL member and Midnight Madness volunteer, said 30-40 OSL members volunteer for the event. Donations from the entire congregation go toward the cost of food.
"For us, it's a great outreach opportunity," Krueger said. "And it's a great way to help out students during a really stressful time in their lives."
Following finals this week, Augustana will celebrate the Class of 2014 at Commencement on Satuday, May 24, at the Elmen Center.
PHOTO AT TOP: Senior Patrick Brende calls bingo during Semester Shutdown's Late Night Breakfast and Bingo.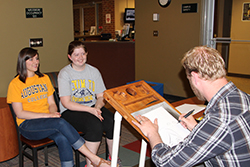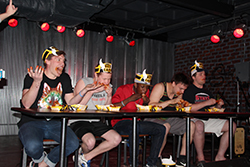 LEFT: Juniors Jackie Adelmann and Cathryn Hartz had their caricatures drawn by artist Tony Biggar. RIGHT: Matt Hugen, Noah Ebel, Josiah Nwokoro, David Kocisko and Austin Ashbacher Ashbadar took part in the "Hot Wing" challenge, a competition to see who could finish 12 of Buffalo Wild Wings' hottest hot wings first. Hugen was the winner.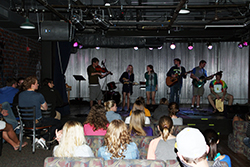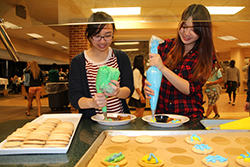 After the student group New Squids on the Dock performed in the Back Alley (LEFT), students took to the Dining Room (RIGHT) to decorate cookies ahead of Late Night Breakfast and Bingo.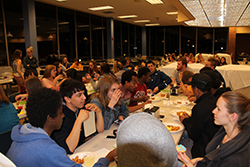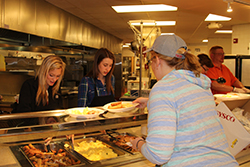 The Dining Room was packed with students who enjoyed a late night breakfast of eggs, sausage and French toast sticks.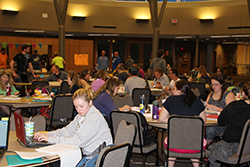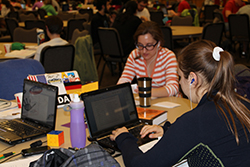 On Sunday, students filled the Gathering Space at Our Savior's Lutheran Church for the 13th annual Midnight Madness event.