Augustana Announces 2018 Alumni Achievement Award Recipients
Six distinguished Augustana alumni will be celebrated during Viking Days for outstanding achievement in their field and for exemplifying the core values of Augustana University: Christian Faith, Excellence, Liberal Arts, Community and Service.
Five alumni will receive the Alumni Achievement Award for their efforts and accomplishments: Robert McGaughey '63, Ralph Boe '65, the late Kayln Johnson '68, Pamella Sonnichsen '68 and Michael Olson '72.
One alumnus, Micah Aberson '04, will receive the Horizon Award, which recognizes early career achievements of graduates of the last 15 years.
The honorees will be recognized at the Alumni Achievement Awards dinner on Saturday, Oct. 20, at the Holiday Inn City Centre in Sioux Falls.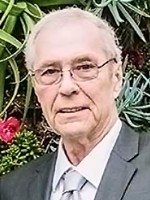 Robert McGaughey '63 is a distinguished professor emeritus at Arizona State University, where he taught developmental anatomy and developmental biology, while also serving as laboratory director for the clinical ART (Assisted Reproductive Technology) program, a title he still holds today. After graduating from Augustana with a major in biology, he went on to pursue his master's degree in biology from the University of Colorado and a Ph.D. from Boston University. He also conducted post-doctorate research at Cambridge before settling into his role at ASU. A true pioneer in ART, Dr. McGaughey has helped thousands of patients achieve pregnancy through his work in the clinical laboratory. Bob and his wife, Barbara, reside in Tempe, Arizona.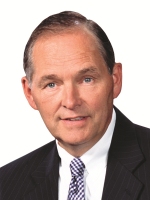 Ralph Boe '65 is president of ArrowStar, LLC, a chemical company that services the carpet industry, and is currently in the process of starting an additional company focused on green initiatives to recycle carpeting and protect the environment. Upon graduating from Augustana where he majored in math and chemistry, Ralph signed up for flight school in the U.S. Air Force before opting instead to attend grad school. He earned teaching assistantships at Penn State University and the University of Maryland, where he earned his Ph.D. in physical chemistry in 1970. Since that time, he has worked with E. I. Dupont, served as president/COO of Horizon Industries, and traveled to the UK to become CEO/managing director of Carpets International. He then returned to the U.S. to serve as CEO of Beaulieu of America. Still on the lecture circuit, Ralph lives in Atlanta, Georgia, with Nancy, his wife of 51 years.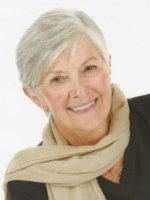 Kayln (Hanson) Johnson '68 served as the long-time executive director at various ELCA Good Samaritan Society facilities serving
Sioux Falls, Las Cruces and Albuquerque, NM, and Kissimmee, Florida. Upon her graduation from Augustana, Kayln earned her master's degree in English from Auburn University, which she applied to work in radio and TV, before returning to Sioux Falls to serve as the communications specialist for Citibank's president and CEO. A true innovator in care for those with dementia and Alzheimer's, Kayln spent her 25-year tenure at Good Samaritan Society specializing in developing Alzheimer's units, Medicare services, and assisted living. Kayln is fondly remembered as a faith-filled woman who loved life and making life better — making a difference — for her students, residents, families, staff, and friends. She was about learning, growing, and loving — and most of all, she loved her family and was proud of her children and grandchildren. Kayln was nominated for this award shortly before her passing in March.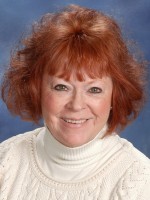 Pamella (Opland) Sonnichsen '68 is a gifted musician and music teacher who has taught band and vocal music to students from the elementary to high school level, with her longest tenure being 34 years at Whittier Middle School in Sioux Falls. After graduating from Augustana as a music education major, Pam secured her first teaching job at Anoka Junior High School in Minnesota and eventually earned her master's degree in education from the University of South Dakota. Maintaining her own trumpet studio for more than 50 years, Pam has played in the Rochester, Minnesota; Austin, Minnesota; and the South Dakota Symphony Orchestras over the years, and also served as instrumental music coordinator at First Lutheran Church in Sioux Falls. Retired from the ranks of active school teacher for the past 11 years, Pam has embraced the transition from "retirement to redefinement" and enjoys spending time with her husband, Dave, their five children (all Augie grads) and their nine grandchildren.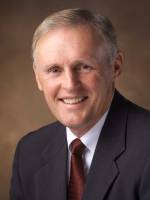 Michael Lee Olson '72 is a family practice physician with Family Practice Medicine Group in Sioux Falls. After graduating from Augustana with a major in biology, Mike attended the University of South Dakota School of Medicine for two years before finishing his schooling at the University of Minnesota in 1975. He then completed a three-year family medicine residency at Methodist Hospital in St. Louis, followed by another three-year stretch in the U.S. Air Force at Mather Air Force Base near Sacramento, CA. After his discharge from the Air Force in 1981, Mike returned to Sioux Falls to practice family medicine, which, between rewarding OB and challenging ER duties, has kept him extremely busy for the better part of 37 years. Mike is part of a family with a strong Augustana heritage, as Deb, his wife of 45 years, his sisters, Becky and Kathy, and his brother Ric are also proud Augustana graduates. Mike is a strong advocate for Augustana and is currently serving on the Board of Trustees.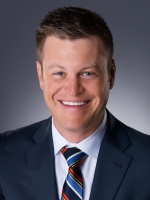 Micah Aberson '04 serves as the Executive Vice President of Sanford Health and is the recipient of the Horizon Award, an honor that recognizes early career achievement by graduates of the last 15 years. While still at Augustana working toward his degree in Business Administration, Micah interned at Lawrence & Schiller, a marketing and advertising agency. He then secured a full-time position there shortly after graduation, serving for 12 years. In 2015, he turned toward the challenging yet rewarding world of healthcare, becoming president of the Sanford Health Foundation and was recently named Executive Vice President for Sanford Health. Micah serves on the Corporate Leadership Team and has operational responsibility for marketing, the foundations, Sanford Profile, public policy initiatives, and the World Clinic Operation. He also chairs the board for the Sanford International PGA Champions Tour event. He lives in Sioux Falls with his wife, Jaclyn '05 and their two daughters, Sutton and Andie.
Viking Days 2018 is Oct. 19-21. Learn more at augie.edu/vikingdays.