From Augustana to Hollywood and 'The Price is Right'
Senior Taylor Wallace spent January as an intern for the popular TV game show, "The Price is Right." She landed the position after Lauren (Olsen) Siefer '05, an Augustana alumna who works for the show, reached out to the University's Student Success Center for help in recruiting an Augie student to fill the internship. 
---
We caught up with Wallace, a communication-business and international studies major from Centennial, Colorado, and Siefer, who serves as director of fulfillment for "The Price is Right," to learn more about their experiences in Hollywood and what it's like to hear those three magical words: "Come on down!"
Q. Lauren, can you describe your role at "The Price is Right" and tell us about your chief responsibilities?

A. I run our prize fulfillment department. It really is a blast. My team meets individually with the 10 winning contestants after each show to review their winnings, explain taxes, answer questions, and keep them calm. I approve all purchases and travel itineraries and work with our promotional placement partners. We tape 190 episodes a season, and I fulfilled more than 290 vehicles last season alone. My goal is to make sure all 1,900 contestants get their checks, cars, blenders and trips.
Q. What's an average day at the office like for you?
A. I love hiking Fryman Canyon with my dog, Willow, my baby, Jack, and my best friend, Becca. I'll quickly shower, drop off Jack at daycare, and head to CBS Television City. I usually spend the morning watching rehearsal from the closed-circuit feed in my office, and take calls from contestants, vendors and car dealers while the show is taping. As soon as the showcases are done, we'll meet with our contestants — that's always like a crazy party. We tape two shows a day, three or four days a week, and every group has a different dynamic. I'll finish up emails and meetings and pick up dinner on the way home. I'm usually in bed by nine.
---
Q. Taylor, how did this internship come about?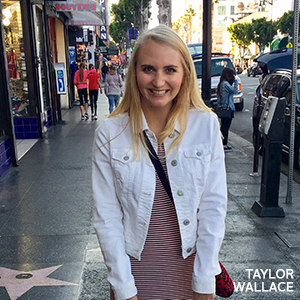 A. It happened completely by chance. I received an email from my advisor, Dr. Mike Nitz, mentioning that the position had been posted on Augustana's internship page and he thought I would be a good fit for this internship. I emailed Lauren to express my interest and to send my resume and cover letter. From there, she suggested a Skype interview, so we did that and a few days later I got a call saying I was chosen for the position.
I was able to do this internship over J-term. It was one of the best months of my life. I had various duties I performed, such as ordering and returning merchandise, verifying MSRPs, organizing contestant paperwork, and other office-related things. In addition, I had the incredible opportunity to see the whole production process all the way from interviewing contestants to helping with contestant checkout to being in the audience and getting on national television.
---
Q. Lauren, what was it like to connect with Taylor during her internship?
A. She is such a bright light. Augie is so lucky to have her, and our production team didn't want her to leave! She has the best attitude — the "what can I do to help?" attitude. That served me well in this industry, and it will certainly help her go far.
---
Q. Taylor, what kinds of things did you learn during the internship? And, what was it like living in California?
A. I learned that even the most menial duties are important and that they should be done with a smile on your face. Even something as simple as taking the trash out can help someone tremendously and people will notice that.
Living in California was so exciting! I wasn't bored once. There are so many trails to hike, museums to explore, foods to try, and people to see. The traffic is something straight out of a horror movie, but I met the most interesting people in my long Uber pool rides, so I wouldn't change a thing.
---
Q. Lauren, tell us about your journey after graduating from Augustana. How did you end up at "The Price is Right"?
A. I spent J-term of my freshman year in Los Angeles interning for "Access Hollywood" and fell in love with the city and the television industry. After I graduated, my boyfriend (Josh Siefer '05) and I moved out to LA, and I transferred with Wells Fargo so I'd have a job when I arrived. I started at a post-production house three months later, beginning my career in entertainment. I worked at Summit Entertainment for two years in their finance department. 
I started at FremantleMedia in 2010 in the live events division as a coordinator. I kept asking for more and more responsibilities. I moved up to production manager, senior manager and producer for our live game shows that included "The Price is Right," "Family Feud," "Let's Make a Deal," and our touring show for "America's Got Talent." I moved over to the television show as a prize producer in 2014 after spending a ton of time on the road. 
Q. Greatest challenges and best rewards of any given day?
A. Production moves fast, so it's always a challenge to stay a step ahead of everything, but I wouldn't want it any other way. This is the most rewarding job I've ever had. I meet people every day who are checking off their bucket list. I watched "The Price is Right" with my Nana when I was little, and I love the nostalgia our show brings people and the memories they have of watching — whether they watched at home on sick days or with their grandparents.
---
Q. Taylor, graduation is about a month away. Can you share your post-graduation plans?
A. I'm so incredibly grateful I had this opportunity and I encourage all students to get out of their comfort zones and pursue an internship out of state at some point during their college careers. As for after graduation, I would love to work in the entertainment industry, doing something similar to this internship. But if that doesn't pan out, I can also see myself working for a public relations firm. All I know for sure is that I want to move somewhere warmer — being in California spoiled me and I miss the sun.
---
Learn more about Augustana's Student Success Center.