Friendship Family Experience: The Youngbergs
Augustana is currently looking for area families to host and/or spend time with international students through the Friendship Families Program. Many families have benefited from these exchanges including the Youngbergs. Karin and Mark Youngberg share their story: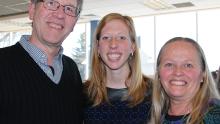 Augustana's Friendship Families Program has been a delightful experience for our family. Over the past four years we have had the opportunity to meet, laugh, eat, travel, hunt Easter eggs, and celebrate with some great international students.

Our experience began with our daughter, Krista '14, who opened her arms — and the Augie van doors — at the airport to welcome these students while she was working in the International Programs Office. She encouraged us to fill out the questionnaire for the Friendship Families Program.

So we did.

We got an e-mail and learned our student was from Norway. We wondered what he would be like. We bought a map and some Norwegian chocolate and brought pictures of his new "family" to keep in his room. We had our first meeting with him in the 3-in-1 room and it was a great meeting! He showed us pictures of his family, told us about the area of the country he was from and showed the other Norwegian students the chocolate he had received while they showed him their Oreos (I don't know who was more delighted).

Later in the year, my parents had elderly relatives here from Sweden who spoke very little English and our student, Morten, offered to be our translator.  What a great first experience.

We also were able to be a friendship family for a Norwegian nursing student, Christine, for a semester. It was so nice to hear her introduce us as her American "mom and dad" and to have her invite her "family" to the Commons for Augustana's Thanksgiving dinner.

Another of our students, Torlnge from Norway, was unable to travel home over Christmas break due to training and jet lag issues, so he was able to spend time with us and attend some of our Christmas gatherings. TorInge even woke up early enough to attend a 7:00 AM Swedish Christmas morning service, Julotta, at our church. Of course there was a Scandinavian breakfast that followed, complete with brown cheese (provided by Tor) and lefse!

Because of these three fantastic examples of international students we have been blessed with, we've been able to expand our family with those students' connections as well. As always with family, what's a few more Easter baskets, college care packages, loaves of banana bread, squirt guns, or chocolate chip cookies, right?

The best part is that the joy of participating in this program continues as we keep in touch even after graduation and they return to their home country, further their studies, get jobs, and reconnect with their families and hopefully share a story, a photo or two, and fond good memories.

It has been a wonderful reciprocal relationship for us. We've been able to be and make friends, develop global connections and see other cultures and countries through the eyes of those who live there. We highly recommend you give it a try. It's one of those quiet opportunities that can enrich the life of a student far from home and we believe it will enrich your life as well.