Poverty Simulation Provides Perspective for Nursing Students
---
In real life, Ryan Menssen is a senior nursing major from St. James, Minnesota, who is well on his way to a fulfilling career in health care. Last summer, he completed an internship in critical care nursing at Sanford Health and, as the fall semester winds down, he's looking ahead to graduation this spring.
But on Thursday, Menssen took on the persona of a 15-year-old kid caught in a spiral of labels and bad decisions as part of the Augustana nursing department's poverty simulation exercise.
"The simulation is designed to help participants understand what it might be like to try to survive month-to-month in a typical low-income family," said Michelle Gierach, assistant professor of nursing. "The experience is meant to sensitize students to the realities facing those in need."
It's not a game, Gierach said, and the emotions are real as each student assumed the role of someone facing poverty.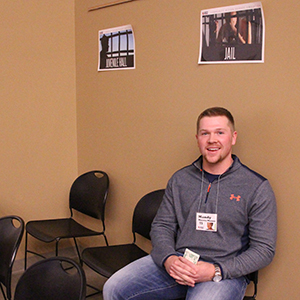 When we caught up with Menssen, he was in "jail." (See photo.)
Menssen said his poverty simulation experience began when his assigned persona — a 15-year-old named Mandy — brought a weapon to school. From there, he was sent to a juvenile detention center. Later, he fell into drug use and ended up obtaining a gun. Unable to get a decent job to support himself, he tried to rob a family for money. That robbery conviction took him to jail.
The experience, he said, was eye-opening.
"Everyone in here got dealt a card; nobody got to pick what card they got. It's like life."

— Ryan Menssen
Senior Nursing Major
Menssen went on to explain how difficult it was for his persona to move past difficult labels like "delinquent" or "drug user."
He said the experience also taught him a lot about empathy.
"In nursing, we're taught to meet people where they are," he said, explaining that the poverty simulation exercise gave him valuable perspective on how to do just that.
While in "jail," Menssen was seated next to the simulation's "health care clinic" where, he said, he noticed a concerning trend.
"Everyone (in the simulation) is so busy trying to survive — trying to find work, seeking help from agencies, taking care of kids — no one is stopping at the health care clinic," he said. "They're too busy worrying about how to just get by that they're not taking care of themselves. That means when they do finally come in for health care, it could be too late. Their (condition) could be too far advanced."