Peru Interim
ART 315: The Art and Archeology of Ancient Peru
January 4-26, 2014
DESCRIPTION
This course will explore Peru, one of the most culturally significant and biodiverse regions on the planet. Coursework will combine selected readings with site visits to museums, galleries, artists' studios and world-significant archeological sites and biosphere preserves. Students will participate in on-site field research and creative projects, focusing on field sketching, watercolor painting and journaling.
Highlights include visits to six UNESCO World Heritage sites, ancient desert cities, paragliding and backpacking Colca Canyon and the Inca Trail to Machu Picchu.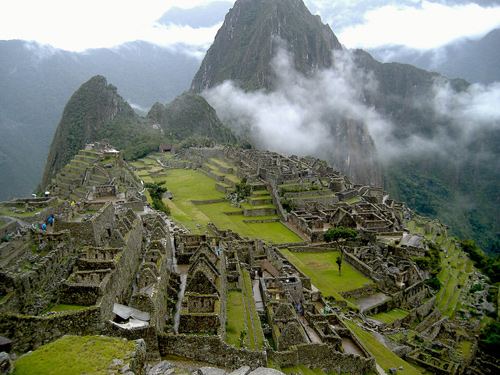 Explore Andean aesthetics of earth and sky, including Incan constellations and contemporary expressions in the visual arts.
Analyze how humans have responded with varying degrees of success to extreme environmental stress, such as El Niño, and discuss the profound implications such crises bring to cultural systems and apply this to our contemporary global situation.
This course requires physical conditioning and vaccinations beforehand, and a flexible mindset for budget travel in a developing country. A physician's examination and release stating that you are in excellent physical condition and capable of hiking at altitudes above 15,000 feet is required.
January is mid-summer in the Southern Hemisphere and we do visit a number of coastal sites (aka beaches)!
ITINERARY
Week 1: The Northern Coast of Peru
Explore Chan Chan along the northern desert coast, the largest city in pre-Columbian America.
Visit the Moche Sun Pyramid, the largest adobe pyramid in the Americas. View 1,000 year old paintings covering the outside of the Pyramid of the Moon.
Painting at Huanchaco Beach, a laid-back fishing village with friendly dogs and lots of reggae music.
Week 2: Central Peru
Lima, the Spanish colonial capital of South America.
View the Cordillera Blanca, the longest mountain range on earth.
Paraglide near Pachacamac, the famous pan-Andean religious center and oracle site to the Inca Atahualpa. You will pilot your own wing.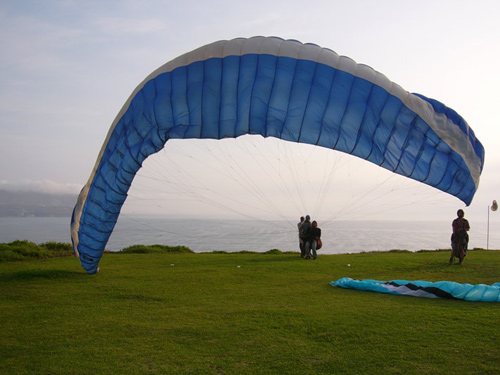 Week 3: Southern Peru
Fly over the Pampas and view the earth drawings at Nazca.
Painting in the Convento de Santa Catalina.
City of Arequipa.
Watch condors and hike to the bottom of Colca Canyon, a canyon almost twice as deep as Arizona's Grand Canyon.
Painting around the town of Cabanaconde.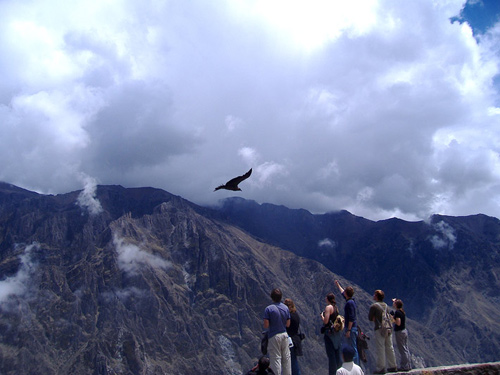 Week 4: The Sacred Valley of the Incas
Qoricancha, Sacsayhuaman, Qenko, Tambomachay, Pucapucara.
Maras, Moray, Pisac, Q'Allaqasa, Ollantaytambo, Intihuatana.
Painting in Cuzco.
Four days and three passes backpacking the Inca Trail to Machu Picchu. We will visit lots of sites along the way, including: Runkuracay, Sayacmarca, and Phuyupatamarca.
Hot Springs after the Inca Trail in Aguas Calientes.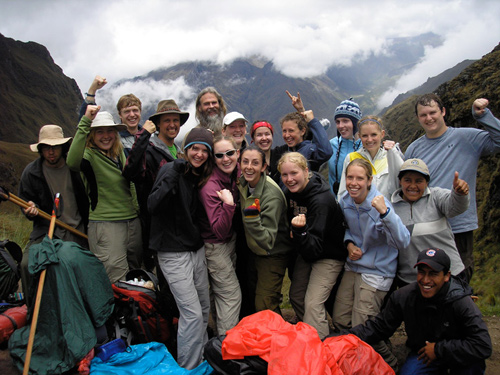 Cost
$5,466 for 23 days.  
Student Requirements:
Deposits by September 15
Passport by September 15
Physical by September 15
Payment in full by October 1
Course Limits:
Minimum 10 students
Maximum 15 students
Cost Details:
Cost is $5,466 for a 23 day course.
We fly out of and back into Sioux Falls.
Course includes all breakfasts, four nice group lunches, four nice group dinners, and all food for 7 days of hiking. 
Students will only need to buy lunches and dinners for approximately 11 days.
The Financial Aid Office has student loan money available for Augustana study abroad, including spending money.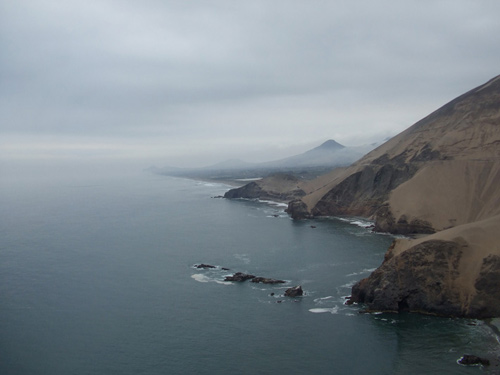 Course Details
4.0 credit hours.
This course will be led by two Augustana faculty and members of the art department: Gerry Punt and Scott Parsons. Both professors have led this course to Peru previously.
No prerequisites. Course limited in size to 15 students.
Deadline is September 15 to sign-up, including a $500 deposit and a doctor's consent form with physical. Course fee due October 1.
This trip requires good overall health and physical conditioning. On the Inca Trail we will hike with backpacks six to eight hours per day. Trails lead to passes over 15,000 feet with substantial changes in elevation each day.
This trip is meant for people who enjoy the outdoors, sleeping in tents, and can be flexible and adaptable to adventure-travel in a developing country with infrastructure, lodging, food, and transportation limitations.
You will need a passport, most likely vaccinations, and an ISIC International Student ID. More info will be provided at a required orientation session. If you do not have a passport, you should apply now.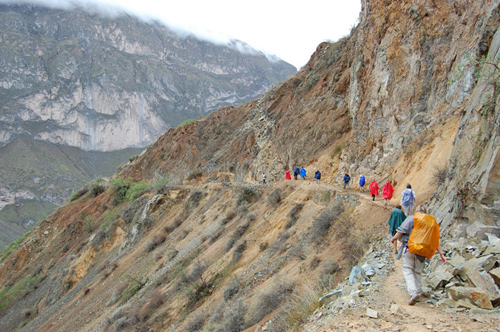 Evaluation:
Grading: Letter grade.
Readings: Cut Stone and Crossroads, The Heights of Machu Picchu.
Participation: An engaged presence (beyond mere attendance) and active participation in all guided visits and discussions, both formal and informal. 100 percent attendance is required.
Observation: Timely, daily, articulated responses will be entered into student's personal sketchbooks or journals, including notes and observations on museum and site visits, lectures, etc.
Watercolor Component: Complete a small portfolio of plein-air "in the open air" paintings.
Analysis: Required readings and group discussions will form the core component for processing and evaluating the relationship of human cultural systems and their adaptations and interactions with the Andean landscape over time.
Creative Research Component and Synthesis:
All students will work in a sketchbook on a daily basis and create a portfolio of watercolors through direct concentrated observation and creative response to the Peruvian landscape. All students will create a descriptive, contemplative, and well-structured image/word-based field journal of Peruvian visual culture and experience, including a comparative iconography with references to contemporary Peruvian society. Art majors may emphasize the watercolor portfolio and sketchbook, non-art major may emphasize their field journals.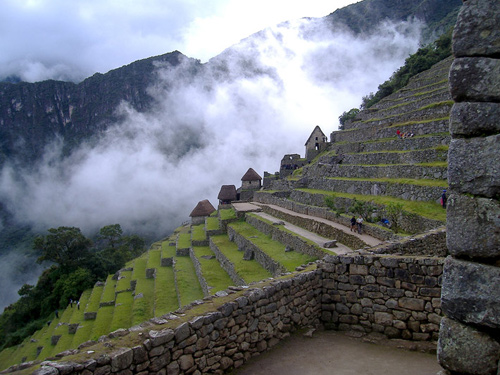 FAQ
 How many days will we be camping? 
Please understand this is an adventure travel course in Latin America. It is important that you are ready to do lots of hiking and maintain a positive outlook and sense of humor about getting wet, being tired, eating strange food, long days on buses, etc. We will do two hikes with five nights in tents. Don't come on this trip if you don't like sleeping in a tent.
Who goes on this trip?
About half the students will be art majors. Most students will have never left the country, or even backpacked, but have an adventurous spirit and want an amazing experience. This trip will be physical, but endurance is more important than athleticism. You will be pushing yourself physically and you will need to be remain flexible with accomodations and schedule. This is Third World travel with local transport and no five-star accomodations.
Do I need to be an art major to go? 
We need students with a sincere desire to try watercolor. You do not need to be an "artist" or art major, but there are a number of days when we will spend the entire day painting. Field instruction in watercolor painting and drawing will be given for all levels of experience. Interim exists for students to try something they might not do otherwise in their normal course of study or area of expertise at Augustana. The point is to go and experience the wonder and awe of another country, the history and the culture. Watercolor will allow you to see things you would have otherwised not noticed and adds to the experience.
Can I go if I just graduated?
Yes, this has worked in the past, including eligibility for student loans. Discuss this with Gerry and Scott first.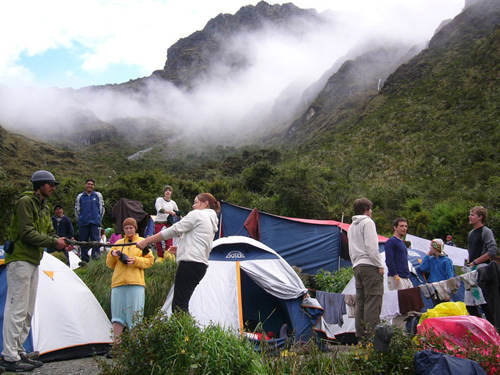 How do I sign up? 
If you are interested, see Gerry or Scott in the art department. We expect this course to fill rapidly. Enrollment will close for this course prior to the general Augustana Interim registration in the fall.
A $500 deposit (check made out to Augustana) and a recent physical (past six months) stating you are fit to hike at 15,000 feet in elevation are required by September 15. You must disclose all medical conditions beforehand that would prevent you from engaging in all physical activities related to our travels.  
Are the deposits refundable? 
No, unless you find someone to go in your place or the course is cancelled.
What do I need to bring for the Inca Trail? 
A backpack and a sleeping bag. Your backpack should have some frame to it and be as light as possible. I recommend the GoLite's Jam 50, which weights less than two pounds!
The sleeping bag should be a good three season bag rated to 30 degrees (or 15 degrees if sensitive to the cold). Carry it in a plastic bag.
Other items: A water bottle and a good pair of shoes to hike in—cross-trainers or heavier with mid- to full-ankle support. It's no fun to twist an ankle two days out. We hike over lots of rocks and through streams and in the rain, so they will get wet. A Vibram sole is recommended.
A rain poncho is essential.
Hiking poles are optional.
Other camping items like tents, stoves, fuel bottles, insulate pads, food, etc., will be provided.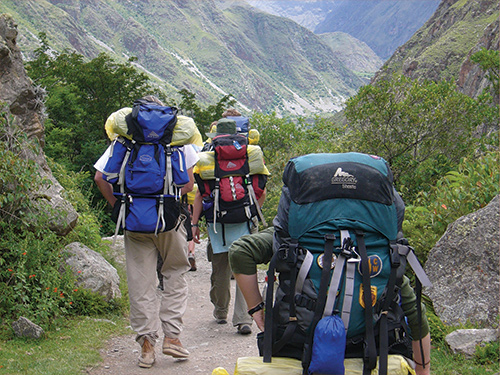 Do I need to be able to speak Spanish? 
It helps, and it's great practice if you're studying Spanish, but you can go without knowing Spanish. All lectures and tours given in Spanish will be translated. Both Yrene and Scott are fluent in Spanish and are able to assist when needed. We have students go on the trip who are also very good in Spanish.
Do I need to start working out? 
Yes. I think every student who went has said hiking the Inca Trail was the hardest thing they have ever done in their life, and perhaps ever will do. To arrive in the manner of the Incas to Machu Picchu is both physically and spiritually exhilarating. You will climb three passes. On day three, you will hike though a cloud forest, then on day four you will climb to the Sun Gate at dawn exhausted. As you make the descent, Machu Picchu appears below you through the clouds and it is a mystical experience—you will have such a sense of wonder, accomplishment and pride in yourself. Students have said hiking the Inca Trail became a spiritual journey. Altitude will be a factor on the trail and we would recommend running several miles, several times a week at a minimum or a similar cardio activity to build endurance. You can ask your doctor to recommend a personal training program when you get your physical.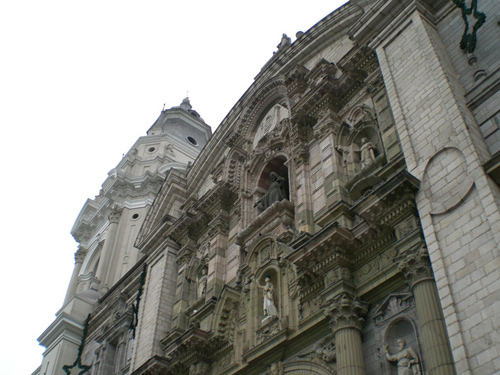 You said that we shouldn't wear shorts in the towns, but can we still bring some to hike in? 
Yes, bring a pair to hike in. The lightest, efficient way is to bring a pair of travel/cargo pants with the legs that zip off—it is a convenient way to have both shorts and pants, plus you don't have to take your shoes/boots off to switch to shorts or pants. You may also want to have a pair of shorts to go along with your swimsuit to the beach, the orphanage, and the hot springs that we will visit.
Is it okay to wear capris in the town areas and while we are hiking? 
Capris could also work if you want to bring a pair for around town. They are not so common, but okay. On the Inca Trail, you can wear anything you want as long as it's comfortable to hike in. Watch out for any sewn-in belts or such things when carrying a backpack, that could be very uncomfortable.
What is the ideal pair of pants to wear? 
Cotton cargo pants. As mentioned, wearing shorts around town is not such a good idea.
What kinds of shirts can we wear? Can we hike in thick strapped tank tops? 
The best thing for the Inca Trail is to think in layers. A tank top is fine if it's hot and you use sun block. I would try on your pack and see if your shoulders are going to get rubbed raw by the straps. If it is cold and we are at altitude, I will put on a long sleeved polyester running shirt. The polyester type of running shirts do a better job of wicking away moisture than cotton does. Last time, I brought two polyester short sleeved, one polyester long sleeved and a couple of normal cotton T-shirts for the month. On the trail, I used running shirts only. A sweatshirt or fleece could be nice to have when it is colder. And then some kind of nylon, rain and wind protection, shell jacket. Whatever you bring, bring thin layers that are easy to take on and off. You will want to have a dry set of clothes to sleep in on the trail, including socks, as it can drop below freezing at night.
What if someone needs to contact me while I am in Peru? 
You will receive a detailed itinerary with names of hotels and phone numbers for each night of our stay. You will also receive the address and phone number of Yrene Parsons' family in Lima. Internet cafes for email are in most towns and we can tell you about international calling cards you can buy before you go.
Have you been to Peru? 
This is our third time offering this course. Gerry Punt and Scott Parsons have traveled to Peru and elsewhere in Latin America on many occasions. Yrene Parsons, is from Peru and will help lead this course. Scott has studied, lived, and painted in Latin America for years and has been to Peru over a dozen times. Scott pursued graduate studies in South American archeology while completing his M.F.A. at the University of Colorado and has performed archaeological field work in northern Chile.
What else will we do? 
Gerry may offer surfing lessons when we stay at the beach, and Yrene and Scott have been known to give impromptu salsa lessons.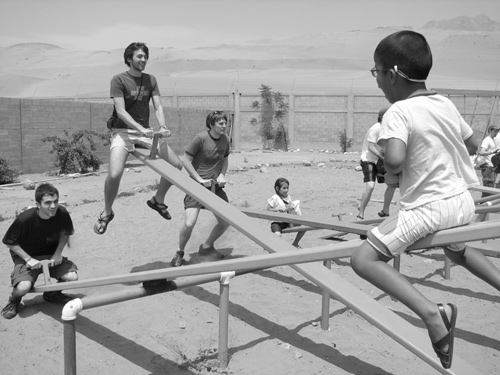 Contact Us:
Scott Parsons 605.274.5025, studio 185C between the drawing and printmaking studios in the Center for Visual Arts.
Gerry Punt 605.274.4333, studio in the ceramics studio in the Center for Visual Arts.
Photos credits and special thanks to Jessica Wentz, Kat Burdine, Annie Youngers, Nick Jackson, Gerry Punt, Scott Parsons, Blake Thompson and Ben Jensen!