Processional Banner
The Chapel of Reconciliation contains a banner designed by Brady Holm and created by Marit Pudas.

The navy, blue and gold-colored banner, designed by senior Brady Holm of Fairmont, Minn., was officially dedicated at a ceremony in the Chapel of Reconciliation on December 1, 2010. It was first carried in procession at the Opening Convocation in September 2010 to celebrate the beginning of the College's sesquicentennial year.

Holm was the winner of a student competition organized during the 2009-2010 academic year by Dr. Ivan Fuller, chair of the Performing and Visual Arts Department, and Dr. Ann Pederson, acting Campus Pastor.

"I wanted [the banner] to signify hope and have an uplifting feeling about it. My vision is that it would instill in our students, faculty and staff hope for the things to come," said Holm.

The banner was constructed by Marit Pudas, a Sioux Falls fiber artist who has assembled banners for churches throughout the community. Bud VanBockern of Sioux Falls constructed the crossbeams.

"Brady Holm gives new and wonderful visual interpretation to Augustana's colors. He did his research and learned that Scandinavian countries could often not afford expensive purple dyes, so they used blue in Advent, the color of the sky and a sign of hope. The Gold is at the center as a reminder of Easter," said Campus Pastor Paul Rohde during his sermon "Practicing Hope one Step at A Time."  (Adobe Acrobat.pdf file, 151.22 KB). "We will carry it in front of us – at fall convocation and again at baccalaureate, to practice being led by hope. The first and last thing Jesus said to the disciples is 'follow me.' We remember that not to be followers instead of leaders, but to be disciples instead of saviors."

You will need Acrobat Reader to view the following .pdf files. You may download Acrobat Reader free of charge from Adobe's website.

VanBockern assembles the banner. Pudas and VanBockern pose with the banner.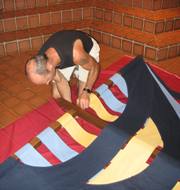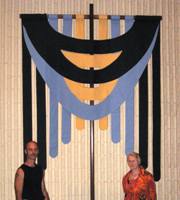 Related files
Advent Dec 1,2011 banner dedication sermon.pdf