Residence Life Fire Safety Academy
In 2009 the Department of Campus Safety, in cooperation with Sioux Falls Fire Rescue, established the annual Residence Life Fire Safety Academy.  The four hour training session is designed to provide Residence Life staff with both classroom and hands-on experience to be better prepared for fire emergencies.  The Fire Academy is held annual in August during the Residence Life training week.
The Fire Safety Academy is attended by over 40 professional and student staff members.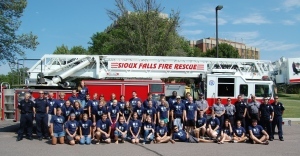 The Fire Safety Academy includes:
Classroom presentation on fire safety
Hands on use of a fire extinguisher
Firefighter challenge
Practice evacuation of a residence hall floor filled with theatrical smoke
Observe a high rise rescue of two students from the eight floor by Sioux Falls Fire Rescue
Observe a demonstration fire using a mock dorm room with a sprinkler system and another without a sprinkler system
The Fire Safety Academy helps Hall Directors and Peer Advisors teach students why evacuation is mandatory, why alarms save lives and how to avoid fire hazards.