VikeSing Men's Choral Festival
The VikeSing Men's Choral Festival on Monday, Oct. 1, is open to male students in grades 9-12 who are currently members of one of their school choirs.
Under the direction of Dr. Paul Nesheim,  VikeSing participants will join together in a special all-day musical event to affirm the participation of young men in the vocal arts.
Attendees will interact with, learn from, and share musical experiences with other singers to build morale, excitement and participation of male singers in area high school choruses. This is an opportunity for students at all levels to share their accomplishments, concerns and skills with each other.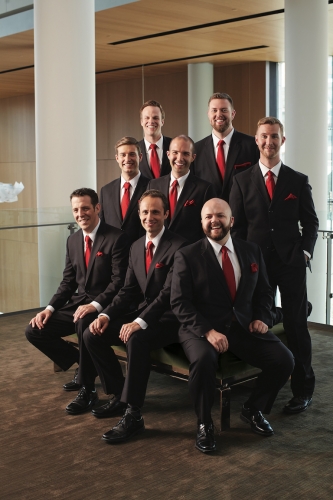 CANTUS will be our special guests for the 2018 Festival. Known as the "premier men's vocal ensembles in the United States" (Fanfare), Cantus enjoys an active schedule of national tour dates, subscription concerts and educational outreach programs and recordings. They are acknowledged for their programmatic versatility, artistic excellence and charismatic personalities — and they will work with YOUR STUDENTS!
Festival participants will rehearse together all day Monday, Oct 1, in a massed choir that will focus on vocal technique, ensemble awareness, and musical expression, all in preparation for the choir's performance at our grand finale concert that evening at the Washington Pavilion.  Headlined by Cantus, our Festival Choir will perform up to four selections, some of which will be with Cantus.
Festival Repertoire
The Festival Repertoire is currently being determined and will be posted on this site as soon as possible. 
Cost
The cost to participate in the VikeSing Festival is $25 per student, which includes registration, t-shirt and lunch in the Ordal Dining Room at Augustana. There is no charge for participating directors/conductors.
Lodging
For directors and for students choosing to stay in a hotel, view the hotels offering discounts to those who are visiting Augustana.
Questions
Please let us know if you have any questions. We look forward to welcoming you and your students to the VikeSing Men's Choral Festival at Augustana University!
Dr. Paul Nesheim
Conductor of The Augustana Choir
605.274.5402
paul.nesheim@augie.edu