Viking Days Kickoff
9 p.m.
Friday, Oct. 18
Falls Room
Holiday Inn City Centre
Make plans to join us on Friday evening at the Viking Days Kickoff Party!
We've got snacks, the opportunity for a beverage of your choice and the music of the Hegg Brothers — featuring Augustana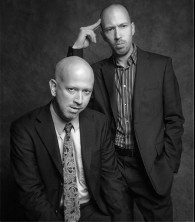 alumni Jeremy '94 and Jon '99 Hegg.
The Falls Room at the downtown Holiday Inn will be the place to see alumni who have attended the Hall of Fame Banquet and the Blue and Gold Gala, as well as your classmates who are coming into town for Viking Days weekend.
This event is brought to you by the Augustana Alumni Association — there is no fee to attend. We hope to see you there!