Viking Days Parade
Saturday, Sept. 27
10:30 a.m.
Grange Avenue
Join us for the Viking Days Pancake Feed beginning at 9:30 a.m. at Commons Drive and Grange Avenue. Come to the parade ready to eat pancakes and see faculty members (our guest pancake flippers!) from the Performing and Visual Arts department. This is a fundraiser to benefit the PVA.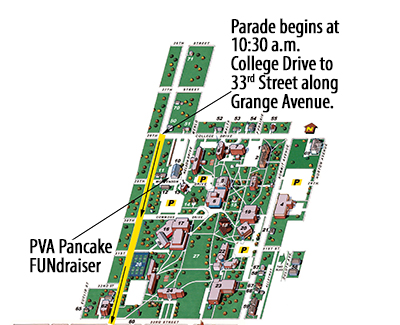 The Homecoming Parade will begin at 10:30 a.m. and run from 28th to 33rd Street on Grange Avenue.
Download a PDF of the campus map.
To accommodate the parade, no parking will be allowed on the parade route effective 6 a.m. until the end of the parade.
28th St. (College Drive) — From Prairie Ave. to Grange Ave.
Grange Ave. — From 26th St. to 33rd St.
Any questions, contact Campus Safety at 605.274.4014.