Visit Days and Events
Augustana offers a variety of campus visit programs throughout the year. We invite you to identify the type of experience and date that works best for your personal schedule. Know that you are welcome to visit as often as you like.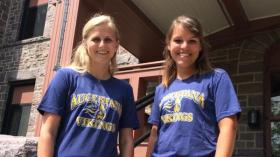 Sign up for one of our visit days and receive the world's softest college t-shirt when you visit!
Whether you've been to campus in the past or are visting for the first time, Explore Augustana provides an in-depth look at academic and student life opportunities. As part of your visit, you will have the chance to meet with faculty from your area(s) of interest, learn about scholarships and financial aid, and take a tour of campus.
Take a look Behind the Scenes where you will have the opportunity to tour the campus, take part in a "behind the scenes" look at life in the Augustana theatre department, receive tips on preparing for theatre auditions and/or constructing a portfolio, and more.
We invite you to discover the performing arts at Augustana University on Friday, December 4. Your experience will include the opportunity to tour the campus, meet some of our music faculty and talented students, audition for a performing arts scholarship, and enjoy campus dining.