Visit Days and Events
Augustana offers a variety of campus visit programs throughout the year. We invite you to identify the type of experience and date that works best for your personal schedule. Know that you are welcome to visit as often as you like.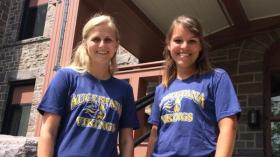 Sign up for one of our visit days and receive the world's softest college t-shirt when you visit!
As the end of your junior year approaches, you may find yourself thinking more and more about future college plans. We want you to know it's never too early to start visiting campus. Seniors always welcome as well.
Your senior year of high school will be busy, so take some time this summer to get a jump-start on your college search. As you make your summer travel plans, be sure to include a visit to Augustana University.