Accepted Student Checklist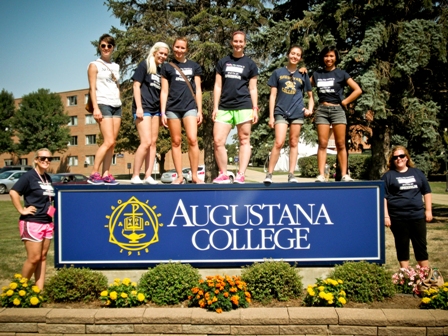 Congratulations on your acceptance to Augustana College! We look forward to welcoming you in Sioux Falls and providing you with an excellent experience at Augustana. Below is a checklist to help you prepare for your journey to the United States and your education at Augustana College.
Obtaining a Student Visa
Once you have been accepted to Augustana, we will send you a Letter of Admission from the College and an immigration document called an I-20. The I-20 is a student visa document that you will use to apply for an F-1 student visa. Contact the nearest U.S. Embassy or U.S. Consulate in your country for specific information on applying for a student visa. For general information about the student visa application process, please visit the U.S. State Department web site.
Submit Your Enrollment Deposit
Once you have decided to attend Augustana, you need to submit a non-refundable $200 enrollment deposit. Pay your enrollment deposit securely online or request a phone call to pay by phone. A credit card is required for the online or phone deposit. Students who do not have a credit card may request bank wire-transfer instructions or may send the deposit by postal money order. The enrollment deposit is not an extra fee and is applied towards your tuition cost. The enrollment deposit reserves your spot at Augustana and allows the College to send you additional information for housing and course registration.
Registration
You must submit your enrollment deposit in order to register for classes. Twelve to sixteen credit hours per semester is considered "full-time" at Augustana. This means students usually take four or five classes. Please review the course listing for Fall 2013.
International students who plan to graduate from Augustana College with a bachelor's degree should review the general course catalog and Augustana Plan (the general education requirements that you will need to graduate, along with major/minor requirements).
Visiting exchange and study abroad students have complete flexibility to choose courses that meet their home school requirements. It is recommended that you seek course approval from your home institution.
International students at Augustana receive a lot of help and advice in planning course schedules. Do not hesitate to ask us if you have questions! After you review the courses offered, please contact Donn Grinager or Ben Iverson to schedule an online or phone registration session. Our hope is to have you registered for classes before your arrival in Sioux Falls.
Housing
Once you have submitted your enrollment deposit, Augustana's Housing Office will send you an email with information regarding your housing options. The email will include a login to your My Augie account. For security reasons, you will receive a second email from the admission office with your password. Once you have access to your My Augie account, you will find an application for a living space at Augustana College. Please complete this housing application at your earliest convenience. If you have questions about the online application, please contact Corey Kopp.
Housing Damage Deposit
After you have submitted your housing application, you will be asked to submit a $100 housing damage deposit. At the end of the school year, your room will be inspected for damage. If the room is not damaged, you will receive a full refund after your final semester at Augustana College.
Friendship Family Program
Augustana offers a friendship family program for international students. A local family can introduce you to American culture, activities, and family life away from campus. Please visit our Friendship Family page for more information. If you are interested, please fill out a Friendship Family Student Application. International students live on campus, not with the friendship families.
Health Forms
All students must complete health forms and have proof of required immunizations prior to the start of classes at Augustana. Please review the Augustana Health Forms. International students are required to provide proof of immunizations for two doses of MMR (measels, mumps, and rubella), Meningitis, and proof of a TB test. The College also recommends several other immunizations listed on the health forms. International students may send the health forms to the college by post, e-mail or upon arrival. We recommend that you obtain vaccinations in your home country. It will likely be less expensive. You can arrange for the following vaccinations on campus after you arrive for the following costs:
TB Skin Test - $20.00
MMR - $72.00
Meningitis - $157.60
Medical/Health Insurance
All students must provide proof of medical insurance. Students may purchase a student medical/health plan from the college or provide proof of medical coverage from your home country.
Food/Meal Plan
The food service staff at Augustana provides a variety of healthy, affordable meal plan options for Augustana students. We will help you choose a meal plan that best fits your needs when you arrive at Augustana College.
Recommended Arrival Date
Fall Semester classes begin on Thursday, September 5. Please plan to arrive in Sioux Falls between Sunday, August 25 and Tuesday, August 27. International Student Orientation will begin on the morning of Wednesday, August 28. As soon as you book your flights, please contact Ben Iverson with your arrival details. We will arrange to pick you up at the airport in Sioux Falls. Students are welcome to arrive prior to Sunday to explore Sioux Falls. However, staff will be unavailable to greet you until Sunday, August 25. The following link lists hotels that offer discounts to Augustana students: http://www.augie.edu/admission/visiting-campus/lodging-and-dining-options
Flight arrangements to Sioux Falls, South Dakota
There are direct flights to Sioux Falls from the following large U.S. cities: Minneapolis, Chicago, Dallas, Detroit, and Denver. The Sioux Falls Regional Airport (FSD) is served by Delta, United, American and Frontier airlines. Submit your flight information and we will arrange your pick up from the Sioux Falls airport (FSD). We look forward to greeting you when you arrive!
International Student Orientation
Orientation will include campus tours, city tours, bank account information, immigration information, campus employment, academic information, housing information, and much more. Please see the full list of important dates for incoming international students.
Learn More about Sioux Falls
If you are like us in the International Programs Office, you love to travel. We also love to plan fun things to do and see. Sioux Falls is a great city that offers many opportunities to international students.
Packing for College
Packing for college can be a challenge, whether you are traveling five kilometers or 10,000. Creating a pre-departure checklist is essential. We also recommend that students subscribe to the philosophy of less is more; meaning to pack light. Sioux Falls, with a population of 158,000, is home to a wide array of retail and thrift stores. You will be able to find anything you need once you arrive. We will provide transportation for your initial shopping experience. Here is our recommended list of packing essentials:
Passport and Visa
Credit card
Medications (if you have any)
Medical records
Clothing essentials (favorite jeans, shoes, etc.)
Electronics converters
Items to purchase on arrival (you only need the basics to begin)
Sheets (extra-long twin) and blankets
Towels
Toiletries
Books