Jazz on the Upper Great Plains Festival
What will your jazz group be doing on March 4 and 5, 2013?
Make plans NOW to participate in the
39th Annual Jazz on the Upper Great Plains Festival!
The "Dear Jazz Educator" letter from Festival Director Dr. Paul Schilf contains all the information you need to make sure your group can be a part of this annual event.
To apply for your group, use this Festival Application Form.
The due date for applications is Monday, Feb. 4, 2013. Registration is limited to the first 50 bands.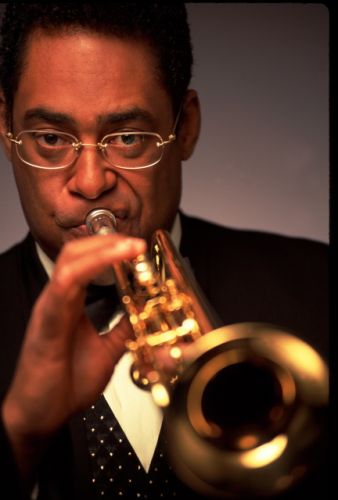 The 2013 Jazz on the Upper Great Plains Festival features Guest Clinician Jon Faddis!
Jon Faddis is a complete and consummate musician — conductor, composer, and educator.
Marked by both intense integrity and humor, Faddis earned accolades from his close friend and mentor John Birks Gillespie, who declared of Faddis, "He's the best ever, including me!" As a trumpeter, Faddis possesses a virtually unparalleled range and full command of his instrument, making the practically impossible seem effortless. Time Out New York (2003) praises Faddis as "the world's greatest trumpeter ... brash soloistic logic and breathtaking technical acuity," and Nat Hentoff, in The Wall Street Journal (2005), characterizes Faddis as "a trumpet player of prodigious lyrical force."
Born in 1953, Faddis began playing at age eight, inspired by an appearance by Louis Armstrong on television. Meeting Dizzy Gillespie at 15 proved to be a pivotal beginning of a unique friendship that spanned over three decades. Shortly after his 18th birthday, Faddis joined Lionel Hampton's big band, moving from Oakland, CA to New York. Faddis worked as lead trumpet for the Thad Jones/Mel Lewis Orchestra at the Village Vanguard, formed his own quartet, and soon began directing big band orchestras, including the Grammy-winning United Nation Orchestra, the Dizzy Gillespie 70th Birthday Big Band, the Dizzy Gillespie Alumni All-Stars, the Carnegie Hall Jazz Band (1992-2002), and the successor to the CHJB, the Jon Faddis Jazz Orchestra of New York (2003-present). The Chicago Jazz Ensemble, which celebrated its 40th anniversary at Columbia College Chicago, named Faddis as its Artistic Director in autumn 2004. Faddis will continue to conduct both the JFJONY and the CJE in the future. Faddis has also served as guest conductor and featured guest with the Lincoln Center Jazz Orchestra.
Faddis' original compositions include the Jazz opera Lulu Noire (1997) (named a "Top 10" pick by USA Today); others may be heard on his Grammy-nominated Remembrances (Chesky 1998), Into the Faddisphere (Epic 1989), and Hornucopia (Epic 1991). Faddis' album, TERANGA (Koch 2006) features new compositions by the trumpeter, joined by members of the Jon Faddis Quartet: David Hazeltine (piano), Kiyoshi Kitagawa (bass), & Dion Parson (drums), together with special guests Alioune Faye (sabor), Abdou Mboup (djembe & talking drum), Russell Malone (guitar), Gary Smulyan (baritone saxophone), Clark Terry (flugelhorn & vocals), and Frank Wess (alto flute).
Questions: Dr. Paul R.Schilf or 605.274.5458
Final Competition Results, 2013:
Monday, March 4
SCHOOL
Competition Class
Place
West Lyon MS
MS Competition
SF Washington Jazz III
AAA Comments Only
Sibley-Ocheyedan MS
MS Competition
3
Alta-Aurelia MS
MS Competition
6
Brandon Valley MS
MS Competition
4
Mitchell MS
MS Competition
5
HMS Middle School
MS Competition
2
Okoboji MS
MS Competition
1
Dakota Valley MS
MS Competition
7
SF Roosevelt Jazz III
AAA Comments Only
Tuesday, March 5
School
Competition Class
Place
Yankton MS
MS Comments Only
Adrian High School
B Competition
2
McCook Central
B Competition
1
Ruthven-Ayrshire
B Competition
3
Miller HS
B Competition
Scratch
School
Competition Class
Place
Tea Area High School
A Competition
2-Jan
West Lyon High School
A Competition
9
Madison High School
A Competition
7
HMS High School
A Competition
6
ELC High School
A Competition
scratch
Pipestone High School
A Competition
10
Dakota Valley Jazz I
A Competition
5
Elk Point Jefferson HS
A Competition
3
Dakota Valley Jazz II
A Competition
11
Lennox High School
A Competition
1
Dell Rapids High School
A Competition
4
Vermillion High School
A Competition
8
SCHOOL
Competition Class
Place
O'Gorman Jazz II
AA
6
Brandon Valley Jazz II
AA
5
Brookings Jazz II
AA
7
O'Gorman Jazz I
AA
3
Brandon Valley Jazz I
AA
4
Brookings Jazz I
AA
2
Mitchell Jazz I
AA
1
Lincoln Jazz II
AAA
6
Lincoln Jazz I
AAA
3
Washington Jazz II
AAA
5
Aberdeen Central Jazz II
AAA
7
Roosevelt Jazz II
AAA
8
Washington Jazz I
AAA
4
Aberdeen Central Jazz I
AAA
1
Roosevelt Jazz I
AAA
2