The 41st Annual Jazz on the Upper Great Plains Festival
Take the following steps to learn how YOU can participate in the region's best high school jazz festival in 2015!
For further information about the Jazz on the Upper Great Plains Festival, please read the "Director's Letter" from Dr. Paul Schilf.
To register your group for the Jazz on the Upper Great Plains Festival, use this Registration Form.
Stay tuned to this page for further updates as the semester progresses.
Questions:  Dr. Paul R.Schilf or 605.274.5458
We are pleased to introduce the 41st Annual Jazz on the Upper Great Plains Festival guest artists, Pete Mills and Rob Parton!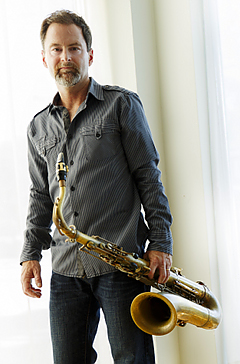 A native of Toronto Canada, saxophonist and composer Pete Mills' discography includes 4 solo titles, with his most recent, 2014's
Sweet Shadow
. The CD released on Vancouver's Cellar Live Records has garnered critical acclaim –
"A stellar recording"-JazzTimes
,
"Man, what a gas!"-DownBeat
and a
4 ½ star rating from Dan McClenaghen at Allaboutjazz.com
.  The recording features drummer Matt Wilson (who is also a part of Mills' disc
Art and Architecture
), his long time collaborator, guitarist Pete McCann, bassist Martin Wind and pianist Erik Augis. Mills' 2007 release,
Fresh Spin
on the Summit Records label features B3 organist Tony Monaco and Pete McCann. It received enthusiastic reviews in both DownBeat (3½ Stars) and JazzTimes magazines and was on the Jazz Week top 50-radio chart for 8 weeks. His 2004's release on Summit,
Art and Architecture
(4 stars All Music Guide), features drummer Matt Wilson, bassist Dennis Irwin and Pete McCann. A top 50 Jazz Week radio release, it also received airplay on the MTV networks. His first solo release was the critically acclaimed,
Momentum
(COJAZZ Records). As a sideman he appears on over a dozen CDs including those by The Columbus Jazz Orchestra, saxophonist Chad Eby, the eclectic ensemble Madrugada, guitarist Stan Smith, The Cleveland Jazz Orchestra and The Paul Ferguson Jazz Orchestra. As a soloist Mills works throughout the U.S and Canada. In Columbus Ohio he performs as a featured soloist with the Columbus Jazz Orchestra (Byron Stripling Musical Director). Educated at the Eastman School of Music and the University of North Texas, Mills has received Grants from the Canada Council and was a recipient of the North Carolina Arts Council Jazz Composer's Fellowship. In addition to his performing, Mills teaches saxophone, improvisation and directs the jazz ensemble at Denison University in Granville, Ohio.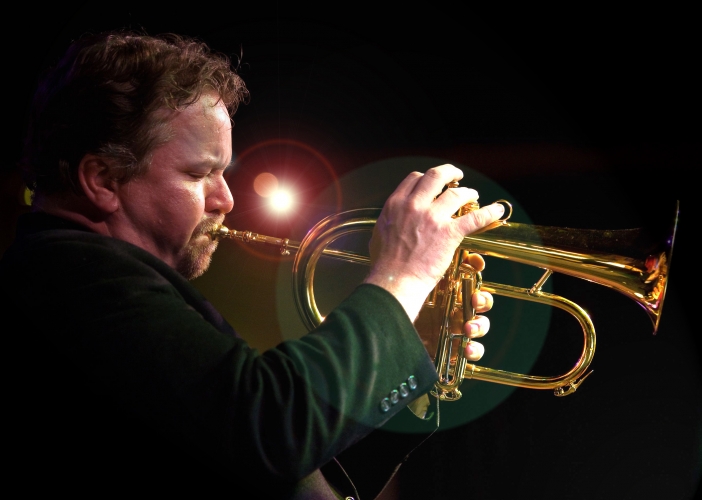 Rob Parton is one of Chicago's busiest and versatile trumpet players. While he is well known as a trumpet artist, performer, and bandleader, he is also active within the academic side of higher education at Capital University in Columbus Ohio. Parton has been the Associate Professor of Trumpet at Capital University in Columbus Ohio since Fall 2010.  Prior to this position, Parton was a tenured, Associate Professor of Jazz Studies and Trumpet in Chicago. As a jazz musician and bandleader in Chicago, Parton cultivated and performed at a five night steady for jazz trio at a wonderful restaurant called Catch 35. The trio continues to this day into its ninth year. Often times you can find Parton performing at Catch 35 when he is in town for other performances. Parton released a Rob Parton Quartet CD in 2008 featuring members of the Catch 35 trio plus others.
As a studio musician, Parton has played on hundreds of local and national radio and television commercials and many local CD projects as lead trumpet. Parton has performed numerous times with the Chicago Symphony, Milwaukee Symphony, Chicagoland Pops Orchestra, Doc Severinson, Tony Bennett, Frank Sinatra Jr., Mel Torme, Beach Boys, Christopher Cross, Sheena Easton, Peabo Bryson, Celine Dion, Nick Carter, Yolanda Adams, Josh Groban, Enrique Eglasius, Natalie Cole, Faith Hill, Carrie Underwood and Maynard Ferguson to name only a few. Parton has traveled with Natalie Cole and has been a featured soloist/member of the Music Now Contemporary Music series offered by the Chicago Symphony Orchestra.
As an educator, Parton teaches Trumpet, Jazz History, Jazz Combos.  He also performs with the Capital Brass Quintet and the faculty Jazz group "Spectrum." When Parton is not working in Columbus or Chicago you will often find him directing an All-State jazz band or contributing as a guest artist with many high school and college jazz programs throughout the country. He has presented concerts and clinics at the Midwest Clinic in Chicago, International Association of Jazz educators convention, JEN, MENC and many other music educator's conventions.