The Augustana Choir
The Augustana Choir has a rich history spanning more than 90 years. The Choir was founded in 1921 and chartered by the faculty of Augustana College to "serve God, the Church, and our school" through choral music. In the words of the choir's founding conductor, Dr. Carl Youngdahl, the choir would "perform a cappella and could thereby appear in the smallest of churches as well as the largest and our concert would be a sermon in song." Today, The Augustana Choir continues to bring sacred choral music of the highest caliber to people around the region, nation, and world.
For ninety years, The Augustana Choir has taken its mission most seriously and its traditions have been upheld and nurtured under the tutelage of conductors Dr. Carl Youngdahl, Dr. Arnold Running, Dr. Olaf Malmin, Dr. James Johnson, and most recently for a one-year term, Dr. Weston Noble. Dr. Paul Nesheim joined the Choir as its fifth conductor on September 1, 2012.
Long recognized as one of the preeminent a cappella choral ensembles, the choir is noted for the honesty of its presentation and its recognition of the importance of maintaining Lutheran choral traditions. Their critically acclaimed reputation is international in scope. In addition to touring the United States, they also regularly embark on overseas performance tours. Over the past ten years, they have appeared in international concert venues on six tours, sharing their music with the people of France, England, Norway, Austria, Wales, Germany, Ireland, and Italy. In 2004, the Choir returned to Ireland for a two-week concert tour of "Peace and Reconciliation" and, in May and June of 2006, presented a tour entitled "I Can Tell the World" in the southeast African country of Tanzania. The international venues for the choir in 2008 were Sicily, the Amalfi coast, Capri, Assisi and Rome.
During January of 2013, the Choir embarked upon a twenty-one day tour of central Europe including Germany, Poland, the Czech Republic and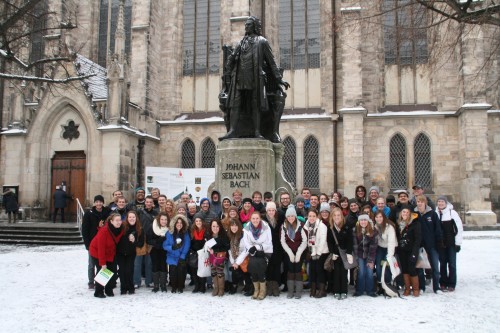 Austria.  Check out their blog with pictures and stories about their trip!   The next international tour is scheduled for January of 2017 when the group will be featured in special celebrations of the 500th anniversary of the Protestant Reformation in Germany.  Additional stops are planned in southern Italy.
Members of the choir and our other choirs are auditioned from the student body of Augustana University and represent all academic majors. These singers are devoted to bringing their "sermon in song" to audiences anywhere in the world, from Carnegie Hall to the churches of the American prairies to the cathedrals of Europe. To be the inheritors of such a wonderful legacy gives the choir a profound pride in being able to continue the strong choral traditions of the colleges of the Evangelical Lutheran Church in America.