59th Annual Augustana Band Festival Nov 11-12, 2016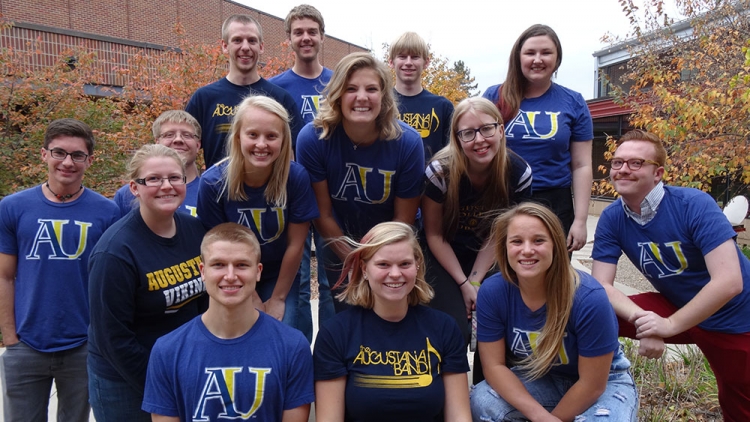 We are delighted to welcome area band directors and their students to a tradition of excellence at Augustana, the Augustana Band Festival! This festival, now in its 59th year, has brought thousands of students from a five-state area to participate in two full days of ensemble and clinic work featuring three separate bands — Gold, Blue, and Honor led by outstanding music educators/directors. Participating students are nominated by their high school directors, and the festival is organized and carried out by an Augustana committee of outstanding student musicians. The 2016 chair is Ms. Allie West, a music education senior from Omaha, NE.  She is assisted by Ms. Kelsey Stotz, a junior from Sioux Falls, SD.
The Augustana Band Festival has been organized and run by a student committee for most of its 59 years.  This year, we are once again delighted with a committee of outstanding musicians, all of whom are dedicated to making this Festival an event to remember for all who attend and participate.
The Grand Finale Concert of the festival will be held in the Mary Sommervold Hall of the Washington Pavilion in Sioux Falls. This event will feature the Gold and Blue Bands, each comprised of approximately 100-110 select high school musicans from the five-state area. The Honor Band also is featured, and is composed of approximately 75 students who have been highly ranked by their directors as students ready to be challenged with more advanced music.  TICKETS for the Grand Finale concert are available through the Washington Pavilion Box Office and ALL SEATS ARE RESERVED.  Students who are participants in the concert will be seated together in the theatre.  Directors, parents, friends and attendees must obtain tickets for a reserved seat from the Box Office.  If you would like your group to sit together, you will need to appear together at the Box Office, OR order your tickets in advance by calling 605-367-6000.   While K-12 students AND DIRECTORS are always free, to obtain the free seat(s) near a patron who is paying, one must call the Box Office or visit in person prior to the concert.  On line purchases will not be possible if they include free seats.  
Meet our Clinicians:
Dr. R. Reed Chamberlin - Reno, NV
R. Reed Chamberlin serves as Director of Bands at the University of Nevada, Reno, where he conducts the Nevada Wind Ensemble, teaches conducting, and guides the concert band program. He holds a Doctor of Musical Arts degree in Conducting from the Eastman School of Music where he was the Assistant Conductor of the Eastman Wind Ensemble, a Fennell Conducting Fellow, and recipient of the Walter Hagen Prize in Conducting. Prior to his appointment at UNR, he served on the faculty of Seton Hill University in Pennsylvania, and was a successful high school music teacher in Ohio. He holds a BME degree from The Ohio State University, and an MM degree in Conducting from Youngstown State University.
His work and experiences represent the nexus of music education and professional level performance, exemplified through the wind-band performance medium. He is in regular demand as a guest conductor and clinician.
His work has been recognized internationally through publication and auditioned conducting symposiums. Notable was the 2008 International Conducting Symposium, sponsored by the National Band Association, and held in conjunction with The Italian Army Band. He has published articles in the National Band Association Journal, the Ohio Music Education Association's TRIAD, and the WASBE Journal. He was also integral in production of the Eastman Wind Ensemble's recent CD, Stravinsky - Octet and L'Histoire du Soldat.
Dr. Collinsworth received his Bachelor of Music degree in Music Education and Master of Music degree in saxophone performance from the University of Nevada at Reno. He received his Doctor of the Musical Arts degree in Conducting from Arizona State University.
Dr. Andy Collinsworth - Rohnert Park, CA.
Dr. Collinsworth is the Director of Bands and Program Director for Music Education at Sonoma State University in Rohnert Park, California. In addition to leading the university Symphonic Wind Ensemble and Chamber Winds Ensemble, he teaches courses in conducting, instrumental music methods and music education. As Director of the Music Education program at SSU, he leads a seminar course for credential candidates in the field of music and supervises student teachers.
Dr. Collinsworth received his Bachelor of Music degree in Music Education and Master of Music degree in saxophone performance from the University of Nevada at Reno. He received his Doctor of the Musical Arts degree in Conducting from Arizona State University.
Prior to joining the Sonoma State faculty in 2008, Dr. Collinsworth taught for nearly twenty years in California public schools. From 1996 to 2005 he was Director of Instrumental Music at Maria Carrillo High School in Santa Rosa, California, where ensembles under his direction were recognized for their superior performances.
Dr. Collinsworth maintains an active schedule as a guest conductor, adjudicator and clinician throughout California and the Western states.  His critical edition full score to Samuel Barber's Commando March, is published by G. Schirmer. In addition to his university duties, Dr. Collinsworth is an active member of several professional organizations. He is President of the Bay Section of the California Music Educators Association (CMEA), and is President-Elect for the Western Division of the College Band Directors National Association (CBDNA). In addition, he is a member of the National Association of Music Education, the California Band Directors Association, the Northern California Band Directors Association, and is an honorary member of the Kappa Kappa Psi band fraternity.  
In 2011, he was honored by the California Music Educators Association's Don Schmeer/Byron Hoyt Band Educator Award honoring excellence in instrumental instruction and performance.
Allie West
2016 Band Festival Chair
Augustana College
2001 S Summit Avenue
Sioux Falls, S.D.  57197
Fax: 605.274.5323