57th Annual Augustana Band Festival Nov 14-15, 2014
ANNOUNCING OUR FESTIVAL ROSTERS!
Follow the links to the UPDATED (10/20/2014) rosters for the following ensembles:
2014 HONOR BAND                     2014 BLUE BAND                   2014 GOLD BAND  See LETTER from John Aboud to Gold Band Members!
Here is the SCHEDULE for the 2014 Band Festival.
We are delighted to welcome area band directors and their students to a tradition of excellence at Augustana, the Augustana Band Festival! This festival, now in its 57th year, has brought thousands of students from a five-state area to participate in two full days of ensemble and clinic work
featuring three separate bands — Gold, Blue, and Honor led by outstanding music educators/directors. Participating students are nominated by their high school directors, and the festival is organized and carried out by an Augustana committee of outstanding student musicians. The 2014 chair is Ms. Amanda Marohl, a senior Elementary Education Major from Benson, MN.  She is assisted by Janae West, a sophomore from Lennox, SD.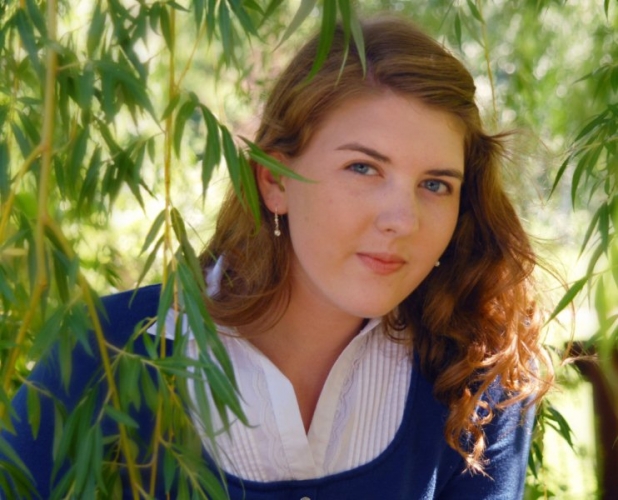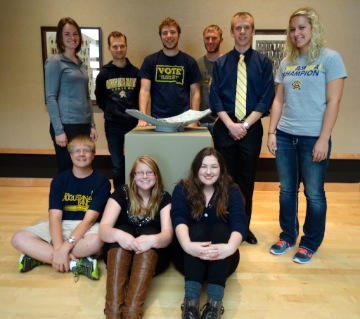 The Augustana Band Festival has been organized and run by a student committee for most of its 57 years.  This year, we are once again delighted with a committee of outstanding musicians, all of whom are dedicated to making this Festival an event to remember for all who attend and participate. 
The Grand Finale Concert of the festival will be held in the Mary Sommervold Hall of the Washington Pavilion in Sioux Falls. This event will feature the Gold and Blue Bands, each comprised of approximately 100-110 select high school musicans from the five-state area. The Honor Band also is featured, and is composed of approximately 75 students who have been highly ranked by their directors as students ready to be challenged with more advanced music.  TICKETS for the Grand Finale concert are available through the Washington Pavilion Box Office and in a change from prior years, ALL SEATS ARE RESERVED.  Students who are participants in the concert will be seated together in the theatre.  Directors, parents, friends and attendees must obtain tickets for a reserved seat from the Box Office.  If you would like your group to sit together, you will need to appear together at the Box Office, OR order your tickets in advance by calling 605-367-6000.   While K-12 students AND DIRECTORS are always free, to obtain the free seat(s) near a patron who is paying, one must call the Box Office or visit in person prior to the concert.  On line purchases will not be possible if they include free seats.  
A Special Note to Band Directors:
We invite your participation to help us make this the most memorable Band Fest on record by taking the following steps in securing participation for you and your students:
Upon completion of these forms, please scan and
email them
OR
you may mail your information to:
Amanda Marohl
2014 Band Festival Chair
Augustana College
2001 S Summit Avenue
Sioux Falls, S.D.  57197
Fax: 605.274.5323
Meet our guest conductors!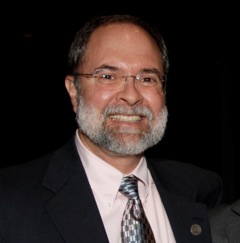 John A. Aboud, Gold Band
John Aboud retired from teaching in 2010 after a successful 33year career as instrumental music teacher in Bennett, Belmond and finally 30 years in Algona Iowa. He continues to be active as a guest conductor, clinician, private teacher and mentor. John earned Bachelor of Music Education and Master of Music Education degrees at the University of Northern Iowa and is a National Board Certified Teacher. He currently designs music ensemble performance trips for Brightspark Travel.
As an active music educator, John chaired and served on a number of Iowa Bandmaster Association Committees and is currently serving as Secretary of the IBA Endowment Foundation. He served Iowa Music Educators Association as All-State Band Chair and President. John also served 8 years on the State of Iowa "Board of Educational Examiners". His recognitions include awards from Northwestern College, UniServ Unit 10 and from the Algona Community School District. He was awarded the 2004 Iowa Bandmasters Association Karl King (Active) Award and the 2010 Iowa Music Educators Association's Distinguished Service Award to Music Education.
Under his direction, the band program at Algona High School developed a tradition as a high quality music education program. The Algona High School Bands received consistent Division I ratings and numerous "Best in Class" Awards at State and regional festivals. The AHS Band program was consistently represented at the Iowa All-State Music Festival and was recognized as having a top solo/small ensemble participation program.
The Algona Community School District's music program was awarded the "Exemplary Music Program" award by the Iowa Music Educators Association in the fall of 1998. The GRAMMYTM Association cited the Algona High School Music program as a "Grammy Signature School" (one of only 250 nationwide) in 1999. In 2004 the Algona High School Concert Band presented the premier performance of the "Algona Overture" with the composer Jan Van der Roost, conducting. Algona High School had a student chosen for the 104 member McDonald's All-American Band in 1988 and had a student named one of 96 All- USA Musicians by the Music Educators National Conference in 2006.
John's wife, Dianne, a National Board Certified Teacher, teaches middle school band in Algona. They have two children, Leslie, a practicing attorney in the Quad Cities and Johnny, a senior at the University of Northern Iowa. John enjoys walking (with and without his dogs), photography and reading in his free time.
Dr. Earl Sherburne, Blue Band
Dr. Earl L. Sherburne received his bachelor's degree with a double major in music and drama at Augustana College, Sioux Falls, SD, his masters in music education at the University of Northern Colorado, Greeley, CO, and his Ph.D. in music education at the University of Minnesota, Minneapolis.  He has taught in several Midwest public schools, colleges, and universities. 
Sherburne has also served as a music consultant for the Illinois State Board of Education and as an Intern in arts management with the Grant Park Orchestra Association in Chicago.  He served on the committee which wrote the music education standards and benchmarks for the schools in the state of South Dakota, and he regularly performs with the Sioux Empire Brass Society of Sioux Falls and has performed on trombone and euphonium, and percussion in concert bands, jazz bands, orchestras, and brass ensembles. 
Dr. Sherburne is a published composer who has written works for band, chorus, jazz band, orchestra, musical theater, and small wind ensembles and has received several commissions for his work.  The South Dakota Symphony performed three of his works and in the spring of 2007, the South Dakota National Guard Band commissioned him to write a work for their ensemble.  He continues to compose for area bands, choirs, and orchestras.  Recently, the South Dakota Music Educators Association commissioned him to write three different sets of audition etudes for the Middle School All-State Band Auditions.
He has collaborated with a librettist on three musicals (one of which is published) and has written both libretto and music for one. That musical, RIBBIT, won the 2011 UMC children's musical competition.  He is currently working on a new musical in which he is doing both music and libretto.
During the summers of 1996 and 1997, he conducted the Iowa State Fair Jazz Band and toured the state of Iowa performing 60 concerts in 45 days.  He has also served as a clinician, guest conductor and adjudicator throughout the Midwest.
Sherburne and his wife, Sonja, live in Sioux Falls, SD, and have two grown sons.