Campus Ministry Opportunities
The opportunity to express, explore and expand faith is integral to a Lutheran liberal arts education. Not only do Augustana students take religion courses, but faith, ethics, and service are also addressed in other subject areas. Faculty and staff from all parts of the College deliver messages during worship in the Chapel of Reconciliation.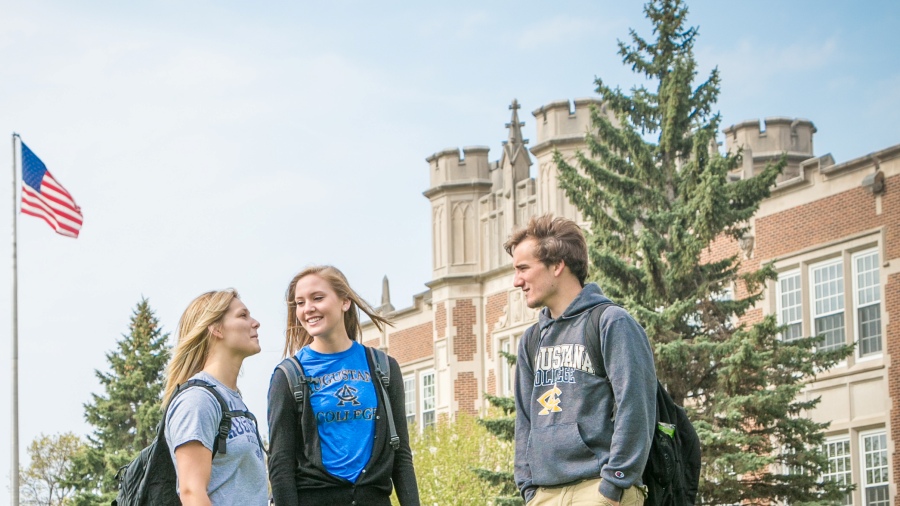 The campus community will worship once a week on
THURSDAYS
this summer in
various campus locations
.
The theme and focus will be "vocation," lifting up various work done at Augustana over the summer and recognizing that God blesses each and every kind of work. Holy Communion will be served. All are welcome.
The Augustana Student Congregation (South Dakota Synod of the Evangelical Lutheran Church of America) gathers regularly in the Chapel of Reconciliation. Students manage the worship and ministry of the congregation.
The campus pastors coordinate worship and student leadership and are available for counsel, encouragement, and support.
Pastors, staff and student leaders welcome all who wish to participate in worship, ministry, and service. Contact the Chapel office for more information at chapel@augie.edu or 605.274.5403.

Check Augustana (SD) Campus Ministry on Facebook to find out the latest updates on activities at the Chapel of Reconciliation.
Opportunities for involvement include:
Worship involvement — Students assist with daily chapel and Sunday worship as lectors, assisting ministers, ushers, communion servers, and musicians.
Senior speakers — Each Friday's chapel service is led by a senior student who prepares the order of worship, music and message. Seniors also speak at Sunday worship periodically.
Chapel musicians — Musicians meet one evening each week to prepare music for Sunday's worship.     
Outreach Ministry — Teams meet weekly for planning and travel monthly to congregations in the region to lead youth retreats and worship services.
Service and travel — Students have numerous opportunities to work and worship with those in need within the Sioux Falls community as well as on service trips to other parts of the United States and the world.
Faith and Learning — Students and professors lead prayer retreats, Bible studies, and discussion groups on topics of personal and global importance.
Koinonia — Students considering church-related vocations (such as ordained ministry, youth ministry, church music) or further theological study gather for sharing, support, discussion and information.
Faith Fest — Students plan and host this annual weekend event when area youth come to campus for worship, music, enrichment, and fun.
Catholics in Action — Students host Mass, Bible study, discussions and other activities open to Catholics and those interested in learning more about the Catholic faith.
 
Other Student Organizations
A number of student organizations focus on faith and service; these groups are organized by the Augustana Student Association (ASA):