Dakota Conference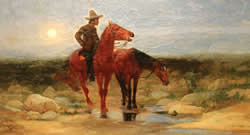 Held April 26-27, 2013, the 45th Dakota Conference on History, Literature, Art and Archeology examined issues of contemporary significance in their historical and cultural contexts. Recent topics of interest have been water use, urbanization, the Black Hills and railroads.
Approximately 80 presenters from as many as 15 states gather to present papers and participate in panels at this two-day national conference. Among the nationally recognized speakers have been Gary Clayton Anderson, Glenda Riley, James Sherow, Joseph Amato, Robert Archibald and Don Hofsommer. Regardless of the theme, the conference seeks the participation of Native peoples in sessions and panels. Native American speakers have included Virginia Driving Hawk Sneve, Tim Giago, Charmaine White Face, Lydia Whirlwind Soldier and Elizabeth Cook Lynn.
45th Annual Dakota Conference
The Spanish Northern Plains
The conference was held in the CWS Fantle Building on the Augustana campus.
Conference Theme: Searching for the fabled cities of gold, Coronado in the 1540s pushed as far north into the Great Plains as central Kansas. Two hundred years later, Villasur reached the Platte River in central Nebraska, where his party was attacked and defeated by Otoes and Pawnees. Spanish fur trader Manuel Lisa worked the upper regions of the Missouri River in the early 1800s. At its zenith in 1795, New Spain constituted most of the American West. Today, large Hispanic/Latino populations live in the Northern Plains, especially in Nebraska, Iowa, Minnesota, and Colorado. In metropolitan Sioux Falls (pop. 250,000), for example, the Hispanic/Latino population is now the largest minority. For the 45th Annual Dakota Conference, the Center for Western Studies is seeking papers on all aspects of Spanish exploration of and Hispanic/Latino immigration to the Northern Plains. Papers and sessions on all aspects of the Northern Plains are also welcome.
Speakers addressing the topic of "The Spanish Northern Plains" include Juan Bonilla, President of LaVoz Hispana TV and Chair of the Sioux Falls Diversity Council; Derek Everett of Metropolitan State University of Denver; Pablo Rangel, University of Nebraska-Lincoln; Juan Gonzalez, Northern State University; Rapid City attorney Thomas Simmons; and Michael Olson, author of books about the Santa Fe Trail.
Sessions on other topics include "The Life and Historical Legacy of Senator James Abdnor," "The Story of South Dakota Immigrant Groups," and "Reflections on Thirty Years of Political Report in South Dakota." Jeffrey Johnson, Providence College, Rhode Island, will speak on Labor Day in the Progressive Era in the Upper Midwest, and Gary Olson will present a computer analysis of ethnic diversity in early Sioux Falls.
Conference Schedule: The 45th Annual Dakota Conference Schedule is now available online. (Schedule Updates as of 4/25/13)
Submission Requirements: Send a one-page paper or session proposal with title, brief description, and biographical sketch, along with presenter name, address, phone number, and email address, to "Dakota Conference," The Center for Western Studies, Augustana College, 2001 S. Summit Ave., Sioux Falls, SD 57197, or send information via email to dakotaconference@augie.edu. Proposals are due on or before February 8. Please indicate whether you would also serve as a session chair.
Registration: Please print and return the Registration Form along with payment to the Center for Western Studies, 2001 S. Summit Ave, Sioux Falls, SD 57197. Registration fees: $90 includes Registration ($45 for Friday - Saturday) and Meal Package ($45 for Friday lunch and dinner and Saturday lunch). After Friday, April 12, Registration and Meal Package will be $50 each. Registration is free for full-time undergraduate students of any college or university and faculty and staff of Augustana College. An online version of the session schedule and a registration form will be available after Friday, March 1, at www.augie.edu/dakota. For lodging information, visit www.augie.edu/lodging.
Autograph Party: The Twenty-sixth Northern Plains Autograph Party will be held on Saturday, April 27, in conjunction with the conference. Authors of recent books about the Northern Plains may apply for invitation to the autograph party by sending a request to Dr. Harry F. Thompson, Executive Director, The Center for Western Studies, harry.thompson@augie.edu, by February 8.
Cash Awards: Awards of $150 and $100 will be presented for best papers in each of the following categories at next year's conference: professional (academic), amateur (non-academic), student, and women's history.
Continuing Education Credit: Available through Augustana College by contacting Dr. Harry F. Thompson at harry.thompson@augie.edu.
The Dakota Conference is supported in part by a grant from the National Endowment for the Humanities.