2021 Lighting the Way Autism Virtual Conference
Due to concerns related to the potential spread of coronavirus (COVID-19), the Lighting the Way Conference has moved to a virtual format, June 10-11, 2021

.

---

About the 2021 Conference
The 2021 conference has moved to a week-long virtual sharing of resources, videos and short presentations via the web page from June 7-11. More information will be uploaded throughout the spring.
The $100 registration fee will include meals, breaks and handouts.
Augustana's 14th annual conference
Limited parent scholarships will be available — contact Becky Hatch Fiala (becky.fiala@augie.edu).
One college credit hour (at $50) and CEU certificates are available.
A June 2022 face to face conference is being planned.
Contact Us (becky.fiala@augie.edu) if you have questions or need further information about the conference.

2020 Keynote Presenters
Dr. Kerry Magro is an award-winning professional speaker, best-selling author and autism consultant to the HBO series Mrs. Fletcher. He started professional speaking nine years ago via the National Speakers Association and has spoken at over 900 events during that time. In addition, Magro is CEO & President of KFM Making A Difference, a nonprofit organization that hosts inclusion events and has provided 68 scholarships for students with autism for college.
In his spare time, Magro hosts a Facebook page called A Special Community (now with 194,000 Facebook followers) where he does on-camera interviews highlighting people impacted by a diagnosis to break down barriers in our community. His videos have been watched over 30 million times.
Magro's best-selling books Defining Autism From The Heart, Autism and Falling in Love and I Will Light It Up Blue! have all reached Amazon best-seller lists for Special Needs Parenting. For his efforts, Kerry has been featured in major media and worked with amazing brands including The Today Show, CBS News, Inside Edition, Upworthy and Huffington Post, among others. He is based in Hoboken, New Jersey, and can be contacted at Kerrymagro@gmail.com.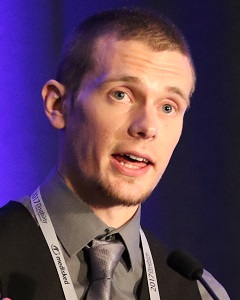 Russell Lehmann is an award-winning and internationally recognized motivational speaker, poet, author and advocate who happens to have autism. His words have been featured in the USA Today, LA Times, NPR, Yahoo! News, Autism Speaks and archived in the Library of Congress, reaching over 25 million people worldwide, from America to Norway, Lebanon to Australia.
A graduate of MIT's "Leadership in the Digital Age" course, Russell is a council member for the Autism Society of America, the Youth Ambassador for the mayor of Reno, Nevada, and has also sat on the Nevada Governor's Council on Developmental Disabilities, as well as the Nevada Commission on Autism Spectrum Disorders.
Russell showed signs of autism as a newborn; however he was not formally diagnosed until the age of 12 after suffering through five weeks in a lockdown psychiatric facility. In 2011, Russell wrote a book titled "Inside Out: Stories and Poems from an Autistic Mind," which was featured in the LA Times, earned an Honorable Mention at the 2012 NY Book Festival, read by Temple Grandin and won the award for Literary Excellency at the 2013 International Autistic People's Awards in Vancouver, Canada.
His new book, "On the Outside Looking In" recently hit bookstores nationwide.
In 2018, Russell was named as Reno-Tahoe's "Most Outstanding Young Professional Under 40."
In 2019, Russell lectured for the prestigious King's College of London.
Russell currently travels the world spreading hope, awareness and compassion in a raw and dynamic fashion, while also setting his sights on erasing the stigma and stereotypes that come with having a disability. Russell's passion is to be a voice for the unheard, for he knows how difficult and frustrating it is to go unnoticed.
Visit Russell's website at www.TheAutisticPoet.com.