Augustana Bookstore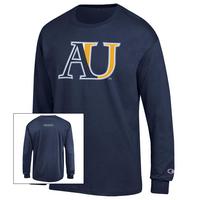 Located in the Morrison Commons, Augustana's Bookstore provides textbooks, supplies and a full range of University-branded items, such as sweatshirts, caps, T-shirts, and more.
Hours
The bookstore is open online 24/7 at augiebookstore.com. Effective, July 13, the bookstore — located within Morrison Commons — is open Monday-Friday from 9 a.m. - 1 p.m., and is closed Saturday-Sunday. Please Note: Face masks are required in the bookstore. Only 10 customers are allowed to be in the bookstore at a time. 
Here are a few things to consider before and/or when visiting the bookstore for textbooks:
The bookstore highly recommends students to place their textbook orders at augiebookstore.com as soon as possible.
Students have the option to choose in-store pickup or have textbooks shipped their home address. Once the orders are received, the bookstore will pull and process the orders.
Textbook aisles will be closed to customers. The bookstore will pull books for students, but they will need to bring a copy of their class schedule in order to pull the correct textbooks for each course.

Students can visit augiebookstore.com and enter in your class schedule or visit their augie portal.

In-store online pickup will be located in the Back Alley of the Morrison Commons beginning Friday, August 21, through Friday, August 28, during bookstore hours.

Students should come alone to pick up their textbooks in order to properly maintain physical distancing guidelines.

Students should have their order confirmation/box number email ready — either pulled up on their phone or printed — in order to pick up their textbooks in a timely fashion.
If you have any questions, please contact bookstore@augie.edu or by phone at 605.274.4417.  
---
Connect with us on Social Media.