Augustana Bookstore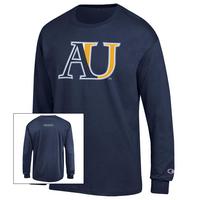 Located in the Morrison Commons, Augustana's Bookstore provides textbooks, supplies and a full range of University-branded items, such as sweatshirts, caps, T-shirts, and more.
Face masks are required in the bookstore.  You will need to have one to enter the bookstore. Only 10 customers are allowed to be in the bookstore at a time.
Hours
General Hours as of Jan., 6, 2021
Monday-Friday: 9am-4pm
Saturday: CLOSED
Sunday: CLOSED
Hours as of Jan., 25, 2021
Monday, January 25 - Friday, January 29:  9 a.m. - 5 p.m.
Saturday, January 30:  CLOSED
Sunday, January 31:  CLOSED
Monday, February 1 & Tuesday, February 2:  9 a.m. - 5 p.m.
Wednesday, February 3:  7:30 a.m. - 6 p.m.
Thursday, February 4 & Friday, February 5: 9 a.m. - 5 p.m.
Saturday, February 6:  10 a.m. - 12:30 p.m.
Sunday, February 7:  CLOSED  
 
Additional info: We HIGHLY RECOMMEND that you place your textbook order on our website and early. You can choose the delivery option of an in-store pick-up or have the books shipped to your home address. Once we get the orders, we will pull and process the orders from the bookstore starting mid January.
 
In-store online pickup will be located in the Back Alley of the Morrison Commons from Friday, January 28 - Friday, February 5 during bookstore hours. You will need to have your ORDER CONFIRMATION/BOX NUMBER EMAIL READY with you either pulled up on your phone or printed out to be able to pick up your books. Please come by yourself to pick up your online order; to maintain social distancing protocols for groups of students or families.

There are 2 options to return your rental textbooks:
Return your rental textbooks IN STORE (hours listed above)
Return your rental textbooks BY MAIL
The bookstore is always open online at augiebookstore.com.
If you have any questions, please contact bookstore@augie.edu or by phone at 605.274.4417.  
---
Connect with us on Social Media.