Writing Center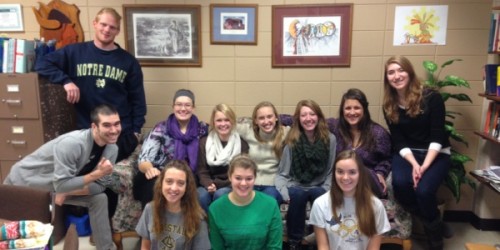 The Writing Center promotes writing across the curriculum at Augustana College by offering the following:
English conversation table on Thursdays at 3pm (cappuccinos and bread provided)
writing-related workshops for faculty and students
classroom presentations supporting W-component classes
tutor services to any enrolled Augustana student.
Writing Center Spring Hours:
Sunday
8:00 - 10:00 p.m.
Monday
8:00 - 10:00 p.m.
Tuesday

10:00 - 11:00 a.m.

3:30 - 5:00 p.m. and

8:00 - 10:00 p.m.

Wednesday
8:00 - 10:00 p.m.
Thursday

10:00 - 11:00 a.m.

3:30 - 5:00 p.m. and

6:00 - 10:00 p.m.

Friday
Closed
Saturday
Closed
The Writing Center is available to all students at Augustana College. Our nationally certified peer tutor/consultants can
Help with any writing assignments (not just English).
Discuss writing assignments to help you understand what is required.
Assist you to think through and develop your ideas.
Help you organize your information and plan your paper.
Suggest strategies to help you edit and proofread effectively.
Check out our new hours on Tuesdays and Thursdays, 10 a.m. to 11 a.m.
Call to set up a weekly appointment time or stop in during the walk-in hours for help with any writing assignment.
Tutors so great you'll fight for the tables.
No appointment necessary. No charge.
605.274.5441
writing@augie.edu
Humanities 220