The Augustana Orchestra
The Augustana Orchestra is a major ensemble at Augustana. The Orchestra's goal is to provide a comprehensive and valuable training ground for orchestral musicians while producing high quality and exciting musical performances. Auditions for the Augustana Orchestra take place during the first week of classes.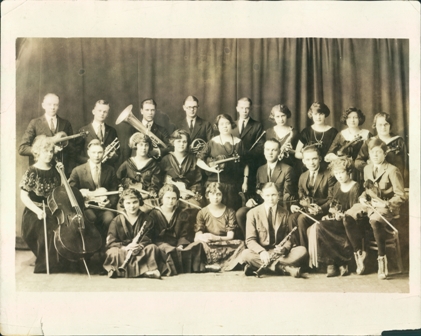 The history of the Orchestra is filled with experimentation and challenge. Founded in 1922 as a collaborative organization with the growing city of Sioux Falls, the orchestra became the original South Dakota Symphony. For many years, the focus of Augustana's orchestral program was within that model until the enrollment at the college grew as well. This growth led to a second opportunity for string players and the study of orchestral performance on campus.
The January 2012 concert tour of the Midwest was the first time in many years that the Orchestra performed in concert "on the road," bringing beautiful music to many people throughout the region. The group will appear in the Omaha area in January, 2015 and do their first European Residency during the month of January, 2016 in Bratislava, Slovakia. 
The 2014-15 academic year calendar for the ensemble (tentative to change) is:
FALL SEMESTER 2014
******************************
Augustana College & Community Orchestra
"VIKING DAYS WORSHIP"
Elmen Center
Sunday, Sept. 28, at 10:00 am
Augustana College & Community Orchestra
"HAUNTCERT"
Washington Pavilion
Sunday, Nov. 2, at 3:00 pm
Johann Strauss: Overture to Die Fledermaus (The Bat)
Mozart: Overture to Don Giovanni
Rachmaninoff: Isle of the Dead
And many movie favorites, including a medley from Frozen
Orchestra members are encouraged to dress in their "Halloween" best, and there will be an instrumental petting zoo.
Augustana Orchestra with Augustana Choirs
AUGUSTANA VESPERS
December 5 (7:00 pm), December 6 (3:00 pm & 7:00 pm), December 7 (2:00 pm)
St. Andrew's Lutheran Church in Mahtomedi (Twin Cities) on December 19 (7:30 pm)
Twin Cities trip includes a stay at the Marriot City Centre and return on December 20
 Stokowski:  Traditional Slavic Christmas
Vivaldi: Selections from "Winter" from The Four Seasons
Tchaikovsky: Nutcracker ("Pas de Deux")
Other Pieces with Choir (TBA), including arrangements of Carols by Kennedy, Harris, Mannheim Steamroller, etc.
JANUARY TERM 2015
******************************
ARCO FESTIVAL
(Augustana Residential Celebration Orchestra for High School String Players)
January 16-17 (Friday and Saturday) at Augustana College
Volunteers Needed from Augustana Orchestra for administration AND musical leadership!
Augustana Orchestra (strings) will play for this event!
WINTER TOUR (Omaha, Nebraska)
Augustana Orchestra (strings and any winds and percussion who are not on band tour)
January 28-30
Grieg: Holberg Suite
Grieg: Movements from Peer Gynt
Wehrspann: Breath (world premiere)
Other pieces (from Fall Semester and ARCO celebration)
SPRING SEMESTER 2015
******************************
Augustana College & Community Orchestra
"SMORGASBORD"
A Salute to Scandinavian Music;
Featuring Ms. Deborah Greenblatt, string artist in residence and Nyckelharpa soloist
Washington Pavilion
Sunday, March 8, at 3:00 pm
Lalo: Norwegian Rhapsody
Stanichar: Hans Christian Andersen Suite (South Dakota premiere)
Grieg: Peer Gynt Suites 1 and 2
Augustana College & Community Orchestra
CONCERTO-ARIA CONCERT
And Poulenc's Gloria
Washington Pavilion
Sunday, May 10, 2015 at 3:00 pm
Featuring Concertos/Arias (TBA) and Poulenc's stunning Gloria with combined choirs