AU Admission Counselor Making an Impact: Wendy Mamer Considered a Rising Star
Wendy Mamer is a Rising Star.
The Augustana admission counselor was named the Rising Star Award winner from the Minnesota Association for College Admission Counseling (MACAC) during its 2020 spring conference.
Each year, the MACAC recognizes the work and achievement of five of its members. The Rising Star Award acknowledges a member who has been a counselor for five years or less and is striving to make a difference within their association through their work on committees. 
"It came as quite a bit of a shock to me," said Mamer.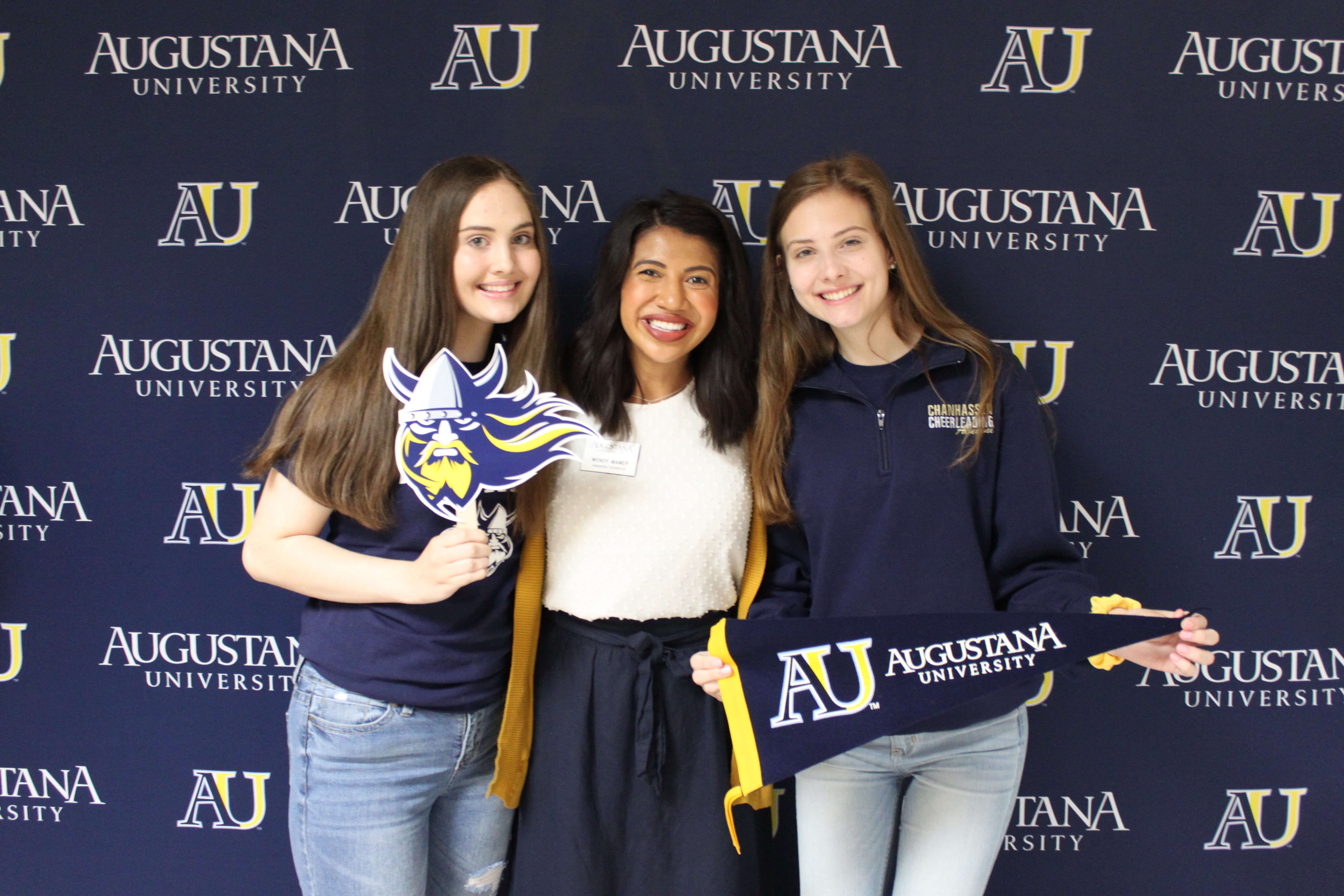 The winner is selected by the association's Member Relations Committee after receiving nominations from other MACAC members. This is what Mamer's nominator had to say about her:
"In this person's two years as an admission professional, they have set a new bar for what it means to serve students and families with excellence. This person is a devoted resource for students, going above and beyond to build trust, educate students, and advocate for them on campus. Not surprisingly, students and parents ADORE this person. In my years as an admission professional, I have yet to meet someone as dedicated to the students. Their compassion for students and relentless dedication to creating access has made our institution better and makes the profession better. I am so proud to work with this person and know they will continue to change students' lives for many years to come."
Mamer is sure her nominator is the colleague she strives to emulate each and every day — which makes this nomination even more meaningful.
"It means so much to me that it came from Madeleine (Ellis), because she is everything I want to be in an admissions counselor. She's been here for six years and I learn so much from her; just seeing how good she is at her job and how passionate she is about the students, having the nomination come from her was really, really special," said Mamer.
While the nomination says a lot about Mamer, her work around campus is what is getting her noticed.
Mamer oversees all of the admission office student ambassadors on campus, but is also the co-advisor of a student organization called Lost & Found. The newly-formed organization is aimed at equipping students with strategies for lifelong resilience and educating them on available mental health resources. So far, it has nearly 200 members.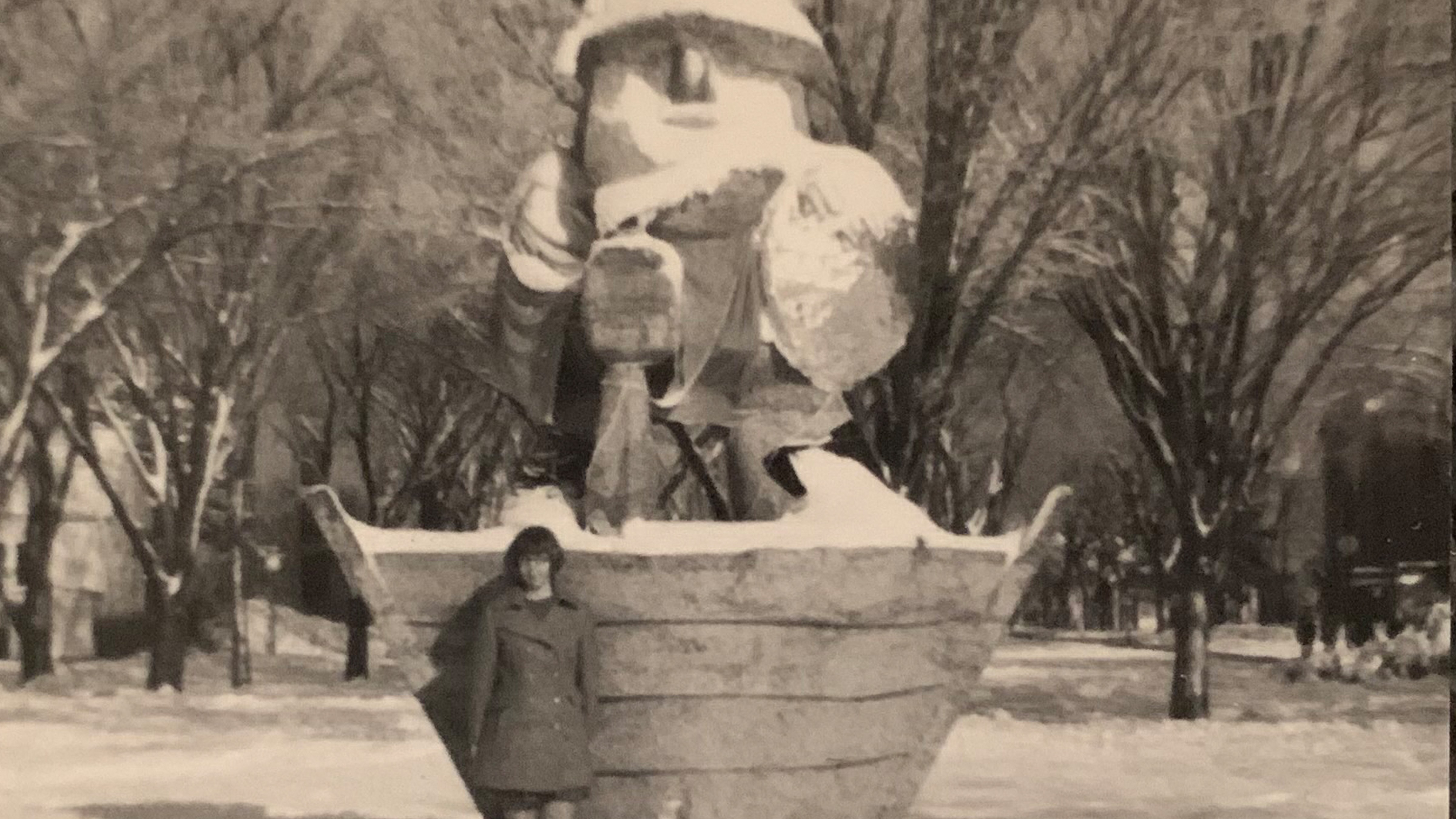 Why Lost & Found? Mamer first came to Augustana in 2012 from Lake Benton, Minnesota, to attend the same college that her mother, Patty (Larsen) Andersen (pictured in front of Ole on the right in November of 1971) graduated from in 1975. But she would later leave to attend college closer to home after her father, Robert Andersen, became ill with depression and anxiety. She also worked in a psychiatric residential treatment center for delinquent youth. She says it was one of her favorite jobs until she lost her father, a farmer for more than 50 years, to suicide. 
"That's why I was super invested in getting the mental health organization started with Hailey Nold, because that's Augustana's only really student-focused mental health organization."
In 2018, the Southwest Minnesota State graduate found Augustana, again.
"An admission counselor position opened up at Augustana and I haven't really turned back," said Mamer. "I love being an admission counselor so much. I feel it's super important to have someone who you are able to trust and I feel like I really try to get to know students as their most authentic self and if Augustana isn't the best fit for them, then I don't want to make them come here either. In the end, I ultimately just want what's best for them."
Mamer says this past year is the first year she had the opportunity to see students who she recruited on campus. She says the relationships she has with those students "just keep her going, keep her smiling."
Even better, her mother has moved to Sioux Falls, and they now get to experience the love they have for Augie together.
The Rise to Stardom Continues
Mamer was also the recipient of the MACAC's 2020 The Legacy Grant, which would have paid for her to attend the Guiding Way to Inclusion (GWI) Conference. NACAC's GWI conference is aimed at secondary, postsecondary, and CBO college admission professionals committed to championing the needs of diverse students within the college admission process. The annual gathering offers educational sessions regarding multicultural recruitment and campus inclusion while also providing a shared space for like-minded professionals to reflect on current issues and share best practices related to equity in higher education. Small group sessions, roundtable discussions, and networking opportunities provide avenues for both personal and professional growth. The conference was to be held in Las Vegas, Nevada, at the end of July, but has since been moved to an online format due to concerns surrounding the COVID-19 pandemic.
---
Media Inquiries: Contact Jill Wilson, public relations and communications strategist.