Augustana, Our Savior's Lutheran Launch Campus Cupboard to Fill Hunger Gaps
Campus Cupboard — a food pantry aimed at fighting food insecurity — started as an attempt to fill in some gaps when there were pauses in food service at Augustana University, but students remained on campus. 
"There are students who have used this service who I would have never thought needed it," said Dr. Jetty Duffy-Matzner. "As a professor at Augustana for more than 20 years, I have seen the need."
The professor of chemistry says the idea for Campus Cupboard arose after attending an Evangelical Lutheran Church in America (ELCA) World Hunger Leadership Gathering with Our Savior's Lutheran (OSL) Church Pastor of Outreach and Communication Rev. Justin Kosec in July of 2019. Both described it as an eye opening experience — learning from partnerships that had been formed in the Minneapolis area.
Kosec said, "We're right across the street. The Our Savior's community has a lot of ties to Augustana, going way back — with people and shared history. And while there's been a lot of organic connection, there hasn't been a lot of intentional service or intentional community building back and forth. That has begun to change over the last couple of years."
"We realized this is something we could do. We had the right people to do it, the space to do it, and definitely the willingness to do it," said Duffy-Matzner.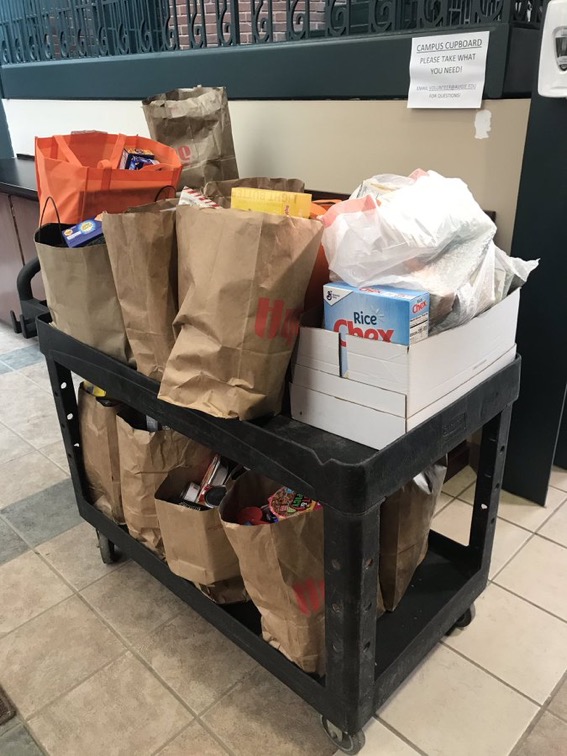 The two partnered with departments and student organizations on campus, including the Augustana Student Association (ASA), Dean of Students Office, Campus Life, Campus Ministry, the International Programs Office (IPO), Serving and Learning Together (SALT), and Student Engagement. Kosec says sustainability is an issue with many campus food shelves so they put out a feeler to the OSL congregation in December. They needed to find out if its members would be willing to pack some meals for students who would be on campus when food service was closed.
"We discovered this passion that people had immediately for this idea and we had more than we could give away that Christmas break," said Kosec. "We were flooded with these bags and they just kept showing up. We were running out of room for them."
With Christmas break as a test, the university and OSL started to look toward spring break. Rather than packing bags of food for the campus community, they offered up a room in the church to serve as the Campus Cupboard — a place close to campus where students wouldn't run into their peers. Beginning in March, three days a week, the community was invited to stop by and pick from shelves of donated food and toiletry items. Not all who came were students.
"Our second day, we had a staff member come down," said Kosec. "It's not just hungry students."
But for the international students, Campus Cupboard volunteers began offering more than just food. Some students were trying to figure out labels for food products in the U.S. for the first time. 
Kosec said, "If you come from a completely different culture, the things that are American staples are mystifying to you. That's what we saw. One student couldn't find the salt in the grocery store, so we ran up to the kitchen and got him some salt. It showed that the level of need is not just necessarily putting food in the belly."
That's why OSL Food Coordinator Debbie Theis hopes to see cooking classes as part of the Campus Cupboard's future — something she could teach anyone a thing or two about. Before COVID-19 hit, Theis was cooking the OSL community meal, also offered to the Augustana community looking for fellowship. While they stopped serving meals due to the pandemic, the partners say they were glad they began this venture when they did. When Augustana transitioned to online learning, OSL began seeing a steady stream of more than 30 people a week.
Duffy-Matzner said, "We were able to get something up before COVID hit, which was critical to being able to respond during this time, so we were lucky in a lot of ways."
The Campus Cupboard will be open to the Augustana community again this fall.
"Just on the faculty side, it's just so important for our students to walk into the classroom prepared because we're a really rigorous university, we have high standards and we push our students really hard; when they're hungry and malnourished, they're not going to work effectively and they're not going to succeed," added Duffy-Matzner.
Campus Cupboard Hours:
Wednesdays from 4-7 p.m.
Thursdays from 4-7 p.m.
Sundays from 9-11 a.m.
To access the Campus Cupboard, enter OSL through the west entrance on Prairie Avenue, take the first set of stairs on the right down one level. The cupboard is located just at the bottom of the stairs. Please check-in at the table where hand sanitizer and gloves will be available. Those who visit will be asked to show an Augustana ID, but no identifiable information will be collected or kept. When leaving, volunteers will ask what was taken so they know what to replace. 
For those interested in donating, please text 'Sharing' to 73256 and select 'Campus Cupboard' from the dropdown menu. Food can also be dropped off in the cart by the front door of the church at 909 West 33rd Street.
---
Media Inquiries: Contact Jill Wilson, public relations and communications strategist.