Bonding Abroad: Chemistry Students Spend J-Term in Germany
When Chemistry professors plan an international student experience, there is only one place to go. "Germany is the birthplace of commercial chemistry," says Dr. Andrew Strandjord, assistant professor of chemistry at Augustana University. "It was a no-brainer," agrees Dr. Andrew Klose, who is also an assistant professor of chemistry at Augustana. Home to pharmaceutical giants like Bayer, Merck, and BASF, Germany holds a host of learning opportunities for chemistry buffs.
Dr. Standjord and Dr. Klose spent the last two years planning Augustana's first chemistry-themed travel abroad opportunity, even traveling to Germany last spring to finalize logistics. "Most of the companies we were in contact with were generally helpful," says Klose. "And some, like Merck, designed a full-day program especially for our students."
Everywhere they went, the students were impressed with the tour guides and the extensive hands-on learning made available to them. "At BASF, we got to wear bunny suits and go through a decontamination machine," freshman chemistry major Sam Brown recalls with a smile. "We couldn't read anything," says sophomore math and secondary education major Liz Pettit, "but we could touch everything."
The tours revealed more than just the mechanics of chemistry to the students. The students were also impressed by the lifestyle of those working in the research institutes. "Some of these companies were their own self-contained communities," notes freshman biology/chemistry major Laura Hartke. "They had their own hair salons, and even their own kindergartens."
While billed as a chemistry experience, this scientific intersections class satisfies the students' general education requirement. At least 25 percent of those attending had no chemistry background. As Dr. Strandjord notes, "you see that chemistry is not just test tubes and beakers. Most people in a chemistry company aren't chemists."
Junior biology major Claire Fanta waited two years for this opportunity. "I was in Dr. Strandjord's lab as a freshman when I heard about it, and I've wanted to go ever since." Other participants were coaxed by their chemistry major friends to join the trip, and some heard about it on Twitter.
While Pettit initially signed up simply to avoid spending January in a classroom, she found the experience nothing short of transformational. As a math major, she was impressed by how accessible it was to non-chemistry majors. And while she says she has a much greater appreciation of chemistry, her experience in Germany, particularly a last-minute tour of an international boarding school in Frankfurt, reaffirmed her passion for teaching.
Over the course of three and a half weeks, the group traveled clockwise, starting in Munich, then heading north through Frankfurt, Cologne, Berlin, and Sioux Falls' sister city, Potsdam. They stayed busy from 7 a.m. through 10 p.m. every day, spending half their time on science-related experiences and the other half on enriching cultural encounters.
The tight-knit group toured the Deutsches Museum of Science and Technology in Munich (the Smithsonian of Germany), visited Heidelberg castle, and spent time at Wittenberg Castle Church where in 1517, Martin Luther nailed his 95 theses to the door at the start of the Reformation. Students say the history was palpable everywhere they went. "It was amazing to stop and think that one building in that city is older than all of the U.S." says Pettit.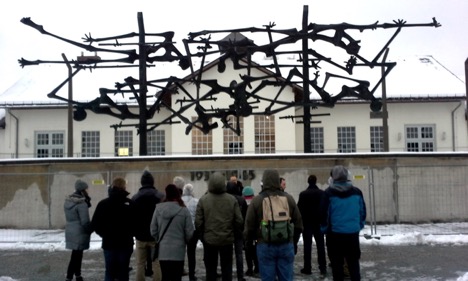 The students also glimpsed the dark side of Germany's history. They took a Third Reich walking tour in Berlin, stood on the stage at Hofbräuhaus where Hitler gave his first political speech, and even visited the site of the Nazi concentration camp at Dachau. "It's so different reading it in a book once you've been there," says Pettit. "You can actually feel what that history is like."
One of the class requirements was to read the book, "Napoleon's Buttons: How 17 Molecules Changed History," a mash-up of science and history that correlated with experiences the students would have while in Europe. Students paired up to present on an assigned chapter, putting together anything from a skit to a game of Jeopardy. Additionally, each student was tasked with introducing one of the places the group visited, as well as creating professional displays to hang in the hallway of the chemistry department back home.
One such display features the incredible German cuisine. "It was spectacular and always so hearty," says junior physics major Trey Waldrop. While they all strove to be part of the "clean plate club," it was not always possible. "They say Americans have big portion sizes!" quips Pettit. Whether or not they could finish their schnitzel, the group found meal time to be a great way to bond. "There's always something special about eating good food with people you like," says Waldrop.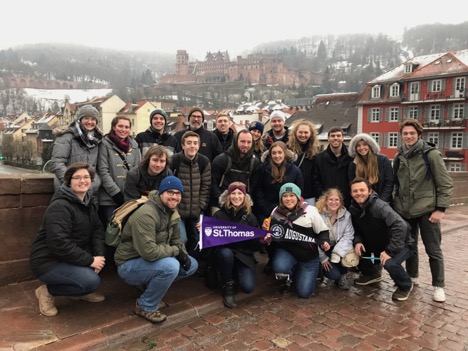 Of the 19 students on the trip, 16 were from Augustana, with the other three joining from the University of St. Thomas through the Upper Midwest Association for Intercultural Education (UMAIE) consortium. "All of the students became very close," says Dr. Strandjord. "Some of them even planned a spring break trip together."
One of those students was junior chemistry and secondary education major Caitlyn Larson. Not only did many of the students have the same educational interests, she says, but now they have shared life experiences, including more than a few inside jokes. "Relationships were solidified," says Larson. "One comment, and everyone just breaks out laughing."
Dr. Klose describes one of these shared experiences. "We were in Potsdam in the second half of the trip, and everyone had been told to save their laundry for Potsdam. We rented a guest house there and expected it to have laundry facilities, but it didn't." Following some bad advice from a local, the crew took the last tram ride of the night to a neighborhood bar at the other end of town. It had subpar food and four washing machines. "None of the dryers worked. Some of the washers didn't even have a spin cycle," recalls Klose. Loaded up with their sopping laundry, the tired group eventually made it back to their guest house, now laughing anytime someone says, "save your laundry for Potsdam."
A new group will have the opportunity to create their own adventures in January of 2021. Strandjord and Klose plan to repeat the trip every other year.