Faculty Retirement Spotlight: Dr. Susan Schrader
Q: Where are you originally from and where did you get your education?
A: I was born and raised in Mankato, Minnesota, graduated from high school there, and then attended St. Olaf College in Northfield, Minnesota. I completed my master's in college student personnel administration (education) at Indiana University-Bloomington, and got my first "real job" as assistant dean of students/coordinator of residence life at (then) Augustana College here in Sioux Falls. Later in my career, I returned to the University of Minnesota to complete my Ph.D in sociology (1993). I was able to come back and apply that knowledge here at Augustana and have been here ever since!

Q: Why did you choose Augustana as your professional home?
A: My aspiration in the 1970's was to be a dean of women at a Lutheran college. So, in my job hunt, I intentionally looked for liberal arts colleges with a church-affiliation. Lo and behold, I was hired by Augustana in the capacity I mentioned above. It was my dream job! In some ways, the Augie phrase, "Enter to learn, leave to serve" was reversed—I felt like I entered to serve.

Q: Describe your time here at Augustana.
A: My career of 32 years at Augustana has been in two segments—eight years in student services, and 24 years in the faculty. I joined the sociology department in 1995, and moved through the ranks. As far as I know, I was the first female full professor in the social science division in the history of the college. For the last three years, I have also served as the social science division chair.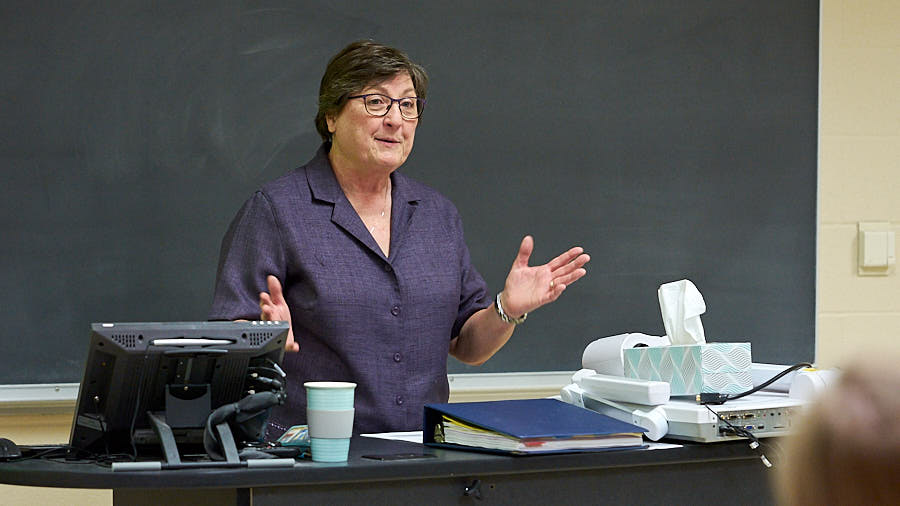 Q: What's the best part about your job?
A: I have found the Augustana community and cross-fertilization of ideas to be one of the best things about my job. I have relished seeing the "light bulb" come on for students who see application of the discipline and tools of science as something they would enjoy doing in a career. I have savored the opportunity to grow in my own knowledge and to build liaisons with others in the broader Sioux Falls community. And it's always a joy to hear from alums who are living good lives of giving and action.

Q: Can you share your fondest memories of Augie?
A: A few snapshots:
• Coming to Augie at age 24 as an administrator (just a bit older than students but three decades younger than virtually every other administrative colleague—like Jorg Thompson, "Pastor Pete," and Doris Huseboe), some other young colleagues, and I decided to form the YTT Club.  We enjoyed each other's company, and reveled in our little secret—that YTT stood for "younger than them."
• There have been memorable moments from the Chapel's lecturn—a baccaleaureate sermon where the text, "I have called you by name and you are mine" was tied to graduates and their forthcoming naming as they received their diplomas, a gay faculty colleague giving a Chapel talk about why he was not a Christian and hearing words of support and encouragement from President Wagoner, and worshiping as a community at the beginning of each school year.
• Celebrating change—seeing new buildings being built, rejoicing in new programs, gifts, and benchmarks, recognizing the importance of bringing in new students and colleagues just as we bid farewell to those who graduated, died, or retired. The feeling of community and continuity in the midst of change has been palpable.

Q: What will you miss the most about being on campus every day?
A: Gosh, I will miss everything. At least by remaining in Sioux Falls, I will be able to support extracurricular activities by attendance, I will be able to support the institution in its aspirations of the Vision 2030 plan, and I can come back, just as I hope those who have been touched by Augustana will do as they are able.

Q: What are your plans for retirement?
A: As might be the case for many retirees, I think it will take me a while to simply reflect on the journey to this point. It's been quite a ride! Then, I am anticipating hobbies and friendships will take center stage. I expect I will eventually become involved in service organizations, but other retirees caution me to not be in a hurry to say "yes" to everything. Even so, I might say "yes" to a few things!