Faculty Retirement Spotlight: Libby King
Q: Where are you originally from and where did you get your education?
A: I'm originally from Springfield, Missouri and I got my B.S in medical technology (now clinical laboratory science) from Missouri State. My first job out of college was working in the Blood Bank and Microbiology Department at St. John's in Tulsa, Oklahoma.
Q: Why did you choose Augustana as your professional home?
A: We were living in Kansas City, MO when my husband accepted a position in New Orleans with Agrico. We were there a very short time and in 1993, he was transferred to Sioux Falls and despite having my experience in healthcare, I couldn't find work in a hospital laboratory because I had a young family. They wanted someone to work nights or early mornings. So I remember contacting the VA Hospital and they recommended I look into Augustana. So in February 1994, I started as a lab instructor. It was perfect for my family.
Q: Describe your time here at Augustana.
A: My career of 25 years at Augustana has been so remarkable. I was able to stay in my same role and spent the fall semesters teaching Genetics and Intro to Microbiology labs, and then in the spring semesters, I taught Cell Biology and Intro to Microbiology labs. I'm the keeper of 'things'! I have the boxes, the yardsticks, markers, the glue gun. Some refer to me as the Guardian of the Institutional Memory. It is all about people coming in to talk to me.
Q: What's the best part about your job?
A: It's the students, it has always been the students. They fuel me. As a mom, I tend to respond to them as they were my own, that may be good or bad. Parents send their children off to college and trust us as faculty, staff and administrators to help them enter to learn and leave to serve. Parents may rest easier knowing someone cares and someone sees their child as special. I know I said the students are the best part of my job, but my colleagues too are the best part. They support, encourage, make me laugh and they laugh at my attempts at humor. I have learned to be a better teacher by listening to them and seeing how they challenge the students. I don't have the market on enthusiasm, it permeates every lecture and lab!
Q: Can you share a poignant memory of Augie?
A: Years ago, I saw a student lying on a bench outside one of the labs. She looked pale. She was directed by her instructor to go out to the hall till she felt better. As I walked towards her, I thought, 'what if it were my daughter laying on a bench?' As we talked, she sipped some water and soon reassured me she was ok going forward. I gathered her backpack from the lab and she headed back to the dorm. It made me think differently about my responsibilities as an instructor and changed my whole outlook on what my role is here at Augustana.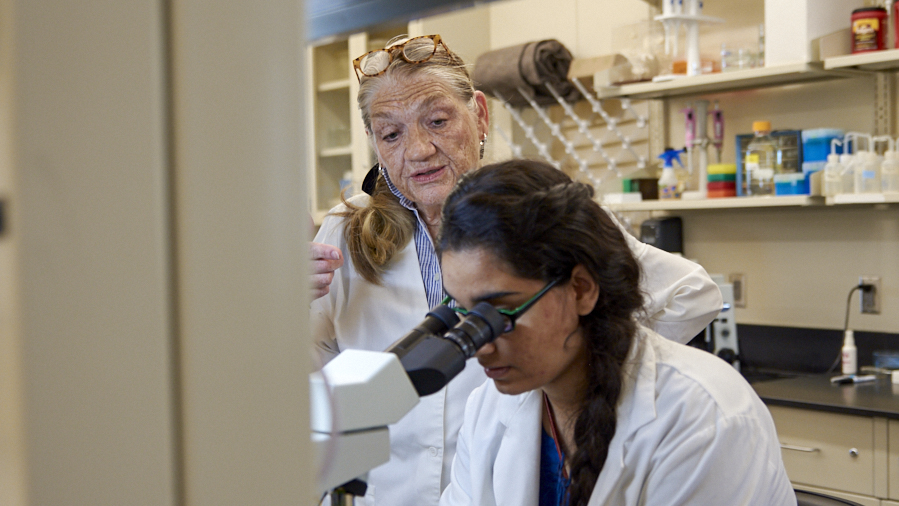 Q: What will you miss the most?
A: Again, it's the students. Every time I have a conversation with a student, I end up learning something new. They are teaching me new things every day. They ask questions and the way they answer is astounding. They are curious and eager to learn, both personally and professionally. I have found that they learn better when you can relate to them and they see that their input counts. I have a favorite quote that states, 'you gotta reach 'em to teach em.' I love it. My heart is so very full, but as it is with all things, this too must come to an end.
Q: What are your plans for retirement?
A: I never got to be a stay-at-home mom so I'm really looking forward to spending time with my kids and grandkids. I love needlepoint, hooking rugs and other handiwork. I also want to continue to investigate our genealogy. One thing, that people are going to laugh at, is that I want to make biscuits. Really good, homemade biscuits that people request at parties and other special events. I love quotes and here's one from George Eliot that I'm taking into retirement: 'It's never too late to be what you might have been.'