Genetic Counseling Graduate Program Off to Strong Start; Sets Standard for Future
Quinn Stein admittedly was nervous when the first eight students in the Augustana-Sanford Genetic Counseling Graduate Program took their board exams in August of 2018.
He knew they had the capacity and intelligence to excel, but as the initial group from the young program, he thought: "Did we teach them the right things?"
No worries. They all passed.
"That was a good feeling when they passed their boards — and when they did well on their boards — to have that feedback that, yeah, we are on the right track for what we're needing to teach them," said Stein, the program's director.
That streak has continued. All of the program's 16 graduates have passed the boards and had been hired by the time they graduated, program coordinator Amy Littel said.
That success marks a strong start for the program that began in 2014 and welcomed its first students two years later.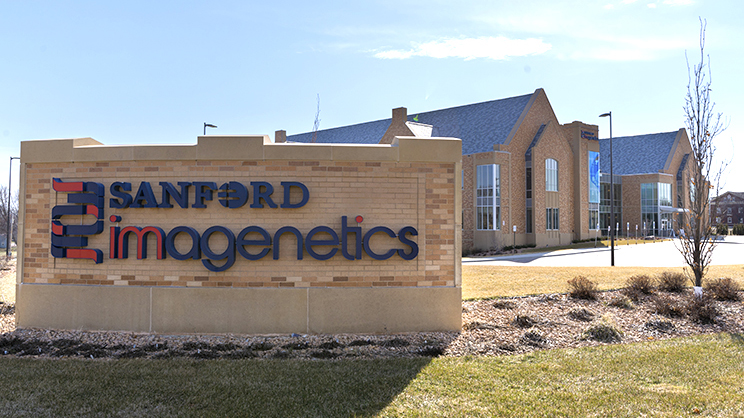 The impetus for the creation of the genetic counseling program at Augustana came from a $125 million gift from businessman T. Denny Sanford to start Sanford Imagenetics at Sanford Health, which is based in Sioux Falls. Startup funding for the program was included in Sanford's gift, and Hoyme asked that Augustana serve as home for the program.
"We have great plans for it. It's sort of the seed of what will hopefully become a much greater genetics presence in the upper Midwest," said Dr. Gene Hoyme, an Augustana grad who serves as an adviser in genetics and genomic medicine at Sanford Health. "But so far, it's been very successful, and I think all of us involved are proud of that."
That was a natural fit, he said.
"Sanford Health would never have partnered with Augustana to develop these programs in genetics and genomics if there hadn't already been this longstanding history of excellence in the sciences (at Augustana)," said Hoyme, who also is the program's co-medical director. "It's been mutually beneficial for both parties. And I think we all hope that continues."
The Augustana-Sanford Genetic Counseling Graduate Program (ASGCGP) is the first graduate program at Augustana with full-time, on-campus students. It not only serves as a model for future graduate programs, its graduates — who receive a Master of Science in Genetic Counseling — fill a critical need in the rapidly expanding field of genetic counseling.
Eight students were accepted in each of the first two classes (2016-18 and 2017-19). That number increased to 10 for each of the next two classes, meaning 10 students are in their first year at Augustana and 10 second-year students are evenly split between Sioux Falls and San Diego, where a partnership with the University of California, San Diego helps provide critical clinical training.
"Hopefully, as new programs are being designed and implemented, the work that has been done by the genetic counseling program, and in response to it, will serve as an example, a pathway and resource for these programs at Augustana," Littel said.
Genetic counselors meet with patients to discuss medical history, family history and ask about specific concerns and goals. They go over test options and help guide patients through the decision making process. Those who work in prenatal clinics meet with pregnant women and women who want to become pregnant.
"(We) look at potential risks to their pregnancy, either based on a family history or something that looks like it's inherited or something that might come up during the pregnancy, whether that be a risk for Down syndrome or some other ultrasound finding that made us concerned," said Taylor Berninger, the program's assistant director in San Diego.
She sees patients at UC San Diego Health and instructs the Augustana students who are spending their second year there. Despite the two-hour time difference, technology allows Berninger to teach students in both San Diego and Sioux Falls at the same time.
But that sometimes means setting an extra early alarm. The Diversity in Genetic Counseling class began at 7:30 a.m. Pacific time during Augustana's Interim Term (or J-Term), which takes place in January, and Berninger was on-site at 6 a.m. for the program's accreditation last fall.
"We had to get going that early to allow the site visitors to see everything they needed to in Sioux Falls," she said. Berninger said she spends about 60 percent of her time with the students, either in the classroom or assisting with their clinical rotations, and the rest with patients at UC San Diego Health. Continuing their work with patients helps Berninger and Becca Loman, the assistant program director in Sioux Falls, remain relevant in their field and apply those lessons to the classroom.
"When I'm in my classes teaching, so much of what the students have found to be helpful, and what I find to be helpful, is using real-life scenarios," Loman said. "I think I do a lot better job in my teaching role because I'm still in my clinic role."
Several genetic counseling graduates have remained in Sioux Falls to work with Sanford Health or Avera Health, but others have filled positions across the country, including California, Colorado, Delaware, Florida, North Dakota and Wisconsin.
"You get to know them so well over the years and you want them to succeed," Loman said. "And so, it's like that prideful, not necessarily at the level of appearance, but like, 'Oh my gosh, I'm so happy that they're doing well, that they are functioning at their highest level and able to be successful in this job that they're so excited about.' "
Demand for Augustana's genetic counseling program remains high, thanks to its early success and standing as one of only 47 accredited genetic counseling programs in the nation — and the only one in the Dakotas — according to the Accreditation Council for Genetic Counseling.
There were about 150 applications for next fall's class, Littel said. That number was cut to about 40-50, and of that group, only 10 students will be accepted.
"It's good for Augustana. It's been good for the Dakotas and it's also been good for Southern California," Hoyme said. "So it's been a win, win all around."
---
Media Inquiries: Contact Jill Wilson, public relations and communications strategist.