Retirement Spotlight: Brad Heegel
Meet Brad Heegel, director of Performing and Visual Arts Development. Not only is he an alum ('76), but he's dedicated most of his entire professional career to Augustana University. Read more about his decades here and what he's going to miss most.
Q: Where are you originally from and where did you get your education?
A: I'm originally from Sioux Falls and graduated from Lincoln High School in 1972. Being from Sioux Falls, I thought I had to leave home for my education. So, I enrolled at Gustavus but once August came around, a friend of my dad's (Dr. Al Hotz) called and told me I was making a huge mistake and I needed to come to Augustana. It was a last-minute decision but the best four years of my life. I majored in Theatre and was really active in student activities/campus life. Somehow, I earned the privilege of being the Augustana Student Association's first male secretary. Then I had to learn how to type.

Q: Why did you choose Augustana as your professional home?
A: After graduation I got a job in the pharmaceutical industry in Minneapolis. After a year of training they wanted to transfer me to Amarillo, Texas and I said 'Nope. I just don't think I can do that.' So, I quit. It was 1977 and the director of admissions at the time (Harold Melemseter) called and asked me to come work for him at Augustana. I said, 'sure, but only for a year.' I didn't know it would be such fun. Augustana was so near and dear to my heart as a student, it was easy to go on the road and promote my alma mater. I loved what I did. I visited every school in Southeast Minnesota and most of Wisconsin those first two years and was hooked! 

Q: Describe your time here at Augustana.
A: My 42 years here at Augustana have seriously flown by. I'm so proud and passionate about everything I've done and worked so hard for. I stayed with admissions, eventually becoming the director, and then moved to advancement in the early 1990s, as director of marketing and events. During those years, I served as the Augie representative to the Nobel Peace Prize Forum Committee and even got to attend the Nobel Ceremonies in Oslo. The college also opted to contract me out to the USGS EROS Data Center as a logistical specialist for international meetings – a job which, in addition to my regular duties – allowed me the chance to travel internationally for more than twelve years. I then went back to my theatre background and became the director of performing visual arts where I had eight incredible years with my colleagues and students of art, music and theatre. Two years ago, I moved 'back to the hill' and joined the advancement team.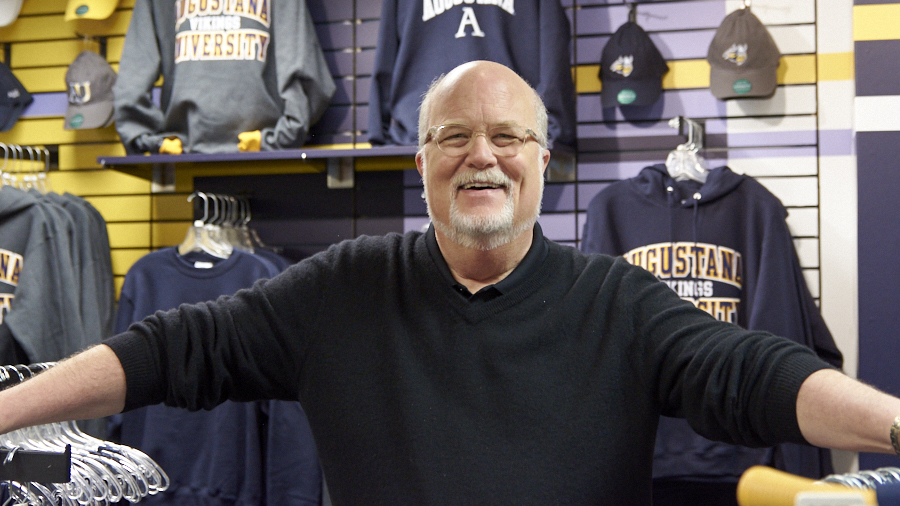 Q: What is the one thing you're most proud of in your career?
A: I would have to say that I'm most proud of the relationships I've been able to build with students; those who I've recruited and those I've helped shape during their years here. I love getting letters or emails from them. In my heart I'm only 30 years old yet now I'm classified as a 'Golden Viking.' Go figure! I think, 'I can't be old enough to retire!' But here I am. The students have kept me young and I'm so proud that they see me as an advocate. I don't grade or judge them. I'm just so fortunate to have had the career I have with them. I'm also proud of starting the Arts Hall of Fame (in 2011) and doing the tours abroad. They are always amazing experiences that can often be life-changing.

Q: Can you share your fondest memories of Augie?
A: I can't think of many days where I've woken up and didn't want to come to work. Perhaps it's because I decided to retire, but lately, I find myself arriving on campus at my usual 6:15 a.m. and taking time to just stand and admire the place as a new day dawns. I guess I want to take it all in and make sure my soul remembers a place that has given me so much. I've been so busy for 42 years I realize I rarely took time to stop and look. And listen. And be grateful.

Q: What will you miss the most?
A: The students. They've kept me young! I'll miss their energy. And of course, I'll miss my colleagues. I've always had great people to work with and I'll miss that connectivity. I'm really excited to see Vision 2030 come to fruition. I assure you I'll be cheering Stephanie and the team on from wherever I am. The best part of the last two years and being in the donor relations world has been seeing first-hand the love that people have for this place and the ways they share that love. They give from the heart and fully believe in this place. We owe it to them to move forward and be even better than we are today.

Q: What are your plans for retirement?
A: My wife, Melinda and I have purchased a home in Spokane, Washington, that's ready when we are. One of our sons and his family live there and we just want to be close to the grandkids. I can't wait to explore the Pacific Northwest. We love the water and the mountains. We want to continue to travel. One of my bucket list items is getting on a train and traveling the California coast. Plus, we're into Airbnb kinds of things where we plan to rent various apartments across the country and the world for a month or two at a time — just to really get to know places we haven't been to or have felt a need to return to.

Q: Do you have any advice for current staff or students?
A: Just love this place. Love the people you're here with. Recognize that if 42 years go really fast, four will pass in the blink of an eye. And finally, know it's not all about you ... this place is bigger than us all. We're standing on the shoulders of giants, my friends.